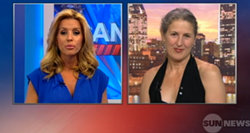 One of these people is sensational. And the other is sensationalistic.
Anyone who watched the SunNews interview with Margie Gillis was not only treated to a whole whack of spray tan and shouting, they also heard a lot of misinformation about the arts community. Despite her best efforts, Gillis' saint-like patience couldn't quite cut through interviewer Krista Erickson's agenda, and today, the Canadian Dance Assembly National Council sent a myth-busting document to members of the media.
Take a deep breath, let the stress ulcer that no doubt flared up upon viewing the clip subside, have a read and relax.
"Following the interview of Margie Gillis on SunNews, in which she so gracefully and eloquently talked about the importance of the arts in the lives of Canadians, the Canadian Dance Assembly would like to add support to her comments by reminding the Canadian media about the following statistics. The Canadian Dance Assembly will let the numbers speak by themselves and advocate on behalf of our dignity.
1) The cultural sector has about 600,000 workers, which is about double the level of employment in the forestry sector in Canada (300,000) and more than double the level of employment in Canadian banks (257,000).
 Source: A Statistical Profile of Artists in Canada: Based on the 2006 Census, Hill Strategies Research, 2009
2) In 2005, two thirds of Canadians read a book (66.6%), one in two attended a performance by professional artists or a cultural festival (48.8%), and one in four visited an art gallery (26.7%).
 Source: General Social Survey, Statistics Canada, 2005
3) In 2008, Canadians spent more than twice as much on live performing arts ($1.4 billion) than on sports events ($0.65 billion). 
Source: Survey of Household Spending, Statistics Canada, 2008
4) The arts are important for personal health and well-being, having an
impact on personal confidence, sense of control, social connectedness, education, and ensuring supportive physical environments. 
Source: Arts and Culture in Medicine and Health: A Survey Research Paper, Cooley & Associates, 2003
5) Critical Evidence: How the Arts Benefit Student Achievement (National Assembly of State Arts Agencies, 2006). Impacts in 6 areas :
Reading and language skills
Mathematical skills
Thinking skills
Social skills
Motivation to learn
Positive school environment
Source: Hill strategies research, March 2011"
I'm sure if you're sitting at your computer on a Friday afternoon reading Art Attack, you may not need to be convinced, but—at the very least—some researched facts make a nice chaser to that shitshow of an interview.