Super Speedway: Racing With the Andrettis
Rated NR 50 min. 2012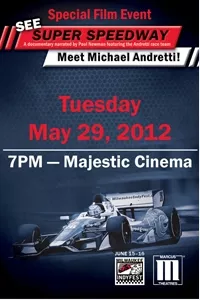 Imagine strapping yourself into one of the world's most powerful racing machines with legendary driver Mario Andretti. Feel the sensation as you roar through a field of two dozen Indy cars, hitting gut-twisting speeds of 230 miles per hour.
Film Credits
Director: Stephen Low
Cast: Paul Newman, Mario Andretti and Michael Andretti
Show Times
Sorry there are no upcoming showtimes for Super Speedway: Racing With the Andrettis
xxx - Deprecated in favor of GTM, above.