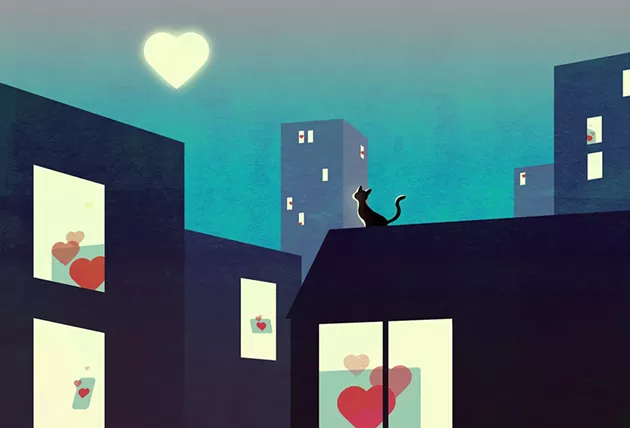 SHANE SONG
Leslie Greening is a queer member of the local kink community and a former cam model. You can find her on Twitter and Fetlife, @PinkPunkSlut.
You're probably a thief. If you're not a thief, you have knowingly benefited from the work of another thief. Watch porn much? Maybe you aren't a thief and you do buy your porn. Maybe you do support the creators whose content you've long enjoyed on Tumblr for free. Excellent! Keep paying for your smut. Changes are brewing and we need your support.
If you've been online at all over the last couple weeks you've almost certainly heard that on December 17, Tumblr banned all NSFW content. This comes shortly after an issue with child porn being discovered on the site. Apple immediately responded by removing the Tumblr app from the iOS store. Whether the policy shift is a direct response to the child porn issue or simply puritanical Apple strong-arming the platform, this is a major loss. No one is suggesting child pornography should be allowed. Settle down. But this is the latest in a series of attacks on open sexuality happening online.
Since SESTA/FOSTA passed in the good US of old A, Craigslist has ended its "dating" listings and Backpage has closed its advertising services to sex workers, forcing
many
back
out on the streets and further marginalizing the already marginalized. Even Patreon has indicated it's no longer supporting X-rated content.
This change is a huge blow to a variety of curators like those in the LGBTQ+ community looking for alternative bodies and content different from the cis-hetero normative porn offerings on major sites. This is especially hard on creators themselves. Artists, independent lingerie manufacturers, fetish wear entrepreneurs, smut authors, sex educators and sex workers of all stripes are losing an outlet to express themselves, their products and the opportunity to build fan bases that translates into clients.
If you're worried about how you're going to bust your next nut think about the people this change is impacting the most and consider supporting them. The hard-working people who create the material you use for a good wank deserve your continued patronage, even if it does cost you a few bucks. Find your
favorite
models, photographers, producers on their other social media pages. Buy their content. Louder, for those in the back; BUY THEIR CONTENT.
Help the people in your fantasies survive. Many sex workers have videos you can buy on ManyVids or
Onlyfans
. Subscriptions give you access to large archives of the same types of imagery you would consume for free on Tumblr but for a nominal fee. There
are
also sex
worker
owned-and-operated outlets like PinkLabelTV and Kink.dom. There are so many sites out there that do not steal from content creators. Search them out. Subscribe.
If you want to watch free porn or can't divorce yourself from Pornhubs ease of use, try and use their verified section so you know the people making the porn are getting paid. Sex can be deviant and still be ethical. That starts with paying performers.
But sex work is illegal! Yeah, well, so is stealing content but you have no problem doing that every time you log into Pornhub or Redtube to get jerk-off material for free. So save me your hypocrisy. You wouldn't walk into a grocery store and take your shopping home without paying. Stealing porn or using websites that allow stolen porn is no different.
Stop using unethical porn sources to fuel your masturbation fodder. Stop perpetuating the stigmatization and marginalization of
folx
already marginalized. Stop taking advantage of those you admire in the darkness of your room. Support the artists that create your fantasies. Be better.
———

Opinionated is a rotating column by Halifax writers featured regularly in The Coast. The views published are those of the author.