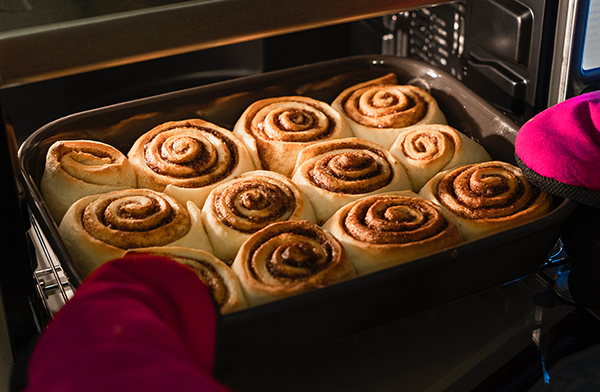 SYD DAOUST
"I have something to offer that isn't being done," says Daoust of her treats.
Syd Delicious
Alderney Farmers' Market
2 Ochterloney Street
Saturdays, 8am-1pm

---
Few things can match the comforting goodness of a warm cinnamon bun, fresh out of the oven. But finding this thrill outside of your own kitchen can prove a challenge. Syd Delicious, the Alderney Farmers' Market's newest vendor, is filling that void.
"I have something to offer that isn't being done—cinnamon buns right out of the oven. I have my own oven and takes 20 minutes to make a batch," says Syd Daoust, the brains, namesake and magic baking hands behind Syd Delicious. "I know why people don't do it—it's time-consuming, you need to make them the night before to double rise, it's tricky keeping them cold at the market—this is why people aren't doing it, but it's great and worth it."
Daoust's first market day was last Saturday, and business was booming—the stall sold out of most items by 9:30am. In addition to hot cinnamon buns, Syd Delicious also sells vanilla and chocolate cupcakes, chocolate chip cookies and brownies. It's a compact little menu.
There's something else setting Syd Delicious apart from other treat stalls, but Daoust doesn't really advertise it while she's selling: All the items are vegan. "There's been a growing need for vegan food, it's popping up all over the place," she says. "I have no vegan friends. My whole family, we aren't activists in any way, we just enjoy it, we aren't judgemental. On our table we don't have it listed as vegan, it's not a secret, but from my own experience, when I say I made vegan cupcakes, some people steered away," she says. "I want the food to be good—not just good for being vegan. Some vegan groups came on Saturday to support me, but some people were just walking through and got a cookie and I didn't say a word."
There are no secretly healthy ingredients in Syd Delicious' roster, no hidden veggies or tofu. It's just an indulgence, and if you can't clock it as vegan, then all the better. "We had a test market at our house and it was great, a lot of people didn't know it was vegan. I'd tell them and they'd say, 'No way!'' says Daoust. "I just want people to enjoy my food."