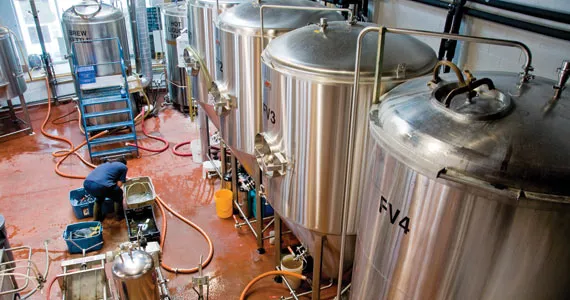 Good things are brewing at Garrison
The leading trends in Canadian craft beer are seasonal releases and limited-editions, and in Halifax the most established microbreweries, Propeller and Garrison, have done a fantastic job keeping their fans on their toes with a staccato attack of new releases.
Garrison recently released its first Spruce Beer, its first oak barrel-aged version of the Ol' Fog Burner Barley Wine and its first Pils, and its first Wit is coming out Thursday, March 17. Meanwhile, annual seasonals have reappeared in succession, including Martello Stout, Winter Warmer, Black IPA, Grand Baltic Porter, Ol' Fog Burner (non-oaked), Sugar Moon Maple and, in May, Blackberry Wheat.
Across town, Propeller brewed its regular winter seasonal, a Russian Imperial Stout, but also started a new lineup of Growler- only releases called the One Hit Wonder series, which included a Zwicklebeer (unfiltered lager), DIPA (Double IPA) and Bock.
"We started our One Hit Wonder series to keep things interesting at the brewery, mostly, and have some fun," says Propeller's John Allen.
Garrison's Daniel Girard tells a similar story. "I personally need to express my creativity in the making of new beers. Working in the brewery is hard work and long hours. It is healthy for me to 'let it go' with new beers once in a while."
The oak-aged beer is a great story. Girard used barrels from the Glenora Whisky distillery in Cape Breton, the first single malt distillery in North America.
"Before filling the barrels, I made sure they were wet enough so that they wouldn't leak, but I didn't clean the inside of them," remembers Girard. "They smelled nicely of whisky---it was in the wood. Almost a year later, when we drew the beer out of the barrels, I could barely believe it. The beer gained an incredible layer of depth in aroma and flavours from the contact with the oak, and benefited from the long maturation of whisky prior to that."
With the spruce beer, Girard was really going "out there" and the result was an intense brew. "Personally, I loved it. It was, to me, the way it had to be," says Girard. "One of the farmers who picks up our spent grain is 70 years old. He told me that his dad used to make spruce beer, way back. Wow, he loved it!" So did a few others, apparently, since Garrison sold the entire 1,000 litres of production in less than 48 hours.
Both Garrison and Propeller have received enthusiastic response, with quick sellouts and rave reviews. So what's next?
At Propeller, this year's One Hit Wonder series is winding down. After the Bock will come an English-style Mild Ale, but that's it until after the busy summer season, when the brewery concentrates on core brands.
"Wild yeast ferments are very 'in' all over the US now," says Garrison's Girard, but he's not going down that risky route. "You can contaminate your whole operation with this," he notes. "I don't want to disclose too much about what I would like to make in the future, but certainly brewing with spices and special herbs is a keen interest."