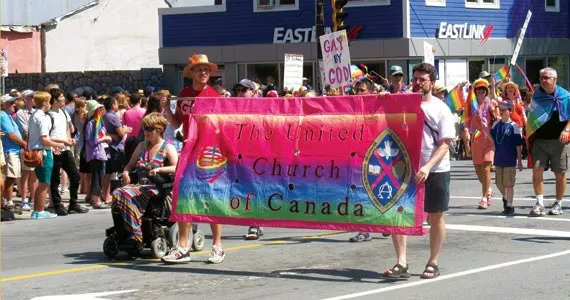 The United Church of Canada marches proudly in last year's parade.
Religion has typically been at the root of many homophobic arguments, but for many religious leaders in Halifax, those attitudes are out of date.
St. John's United Church has been one of the leaders in paving the way for LGBTQIA-friendly religious spaces in the city. It initiated an affirming process with a committee in the 1990s, which "tried to get conversations going over a lot of controversy, great wailing and gnashing of teeth and over-my-dead-body kind of stuff," minister Martha Martin says.
Affirming "means you put the rainbow on the door," she says. Congregation members would ask why it needed to be said out loud, but at the time, Martin worked in university chaplaincy as well, where students would ask her, "Can you tell me a church I can go to where I will not hear hate preached?"
These days, Bedford United and St. Matthew's United are also affirming, and the Universalist Unitarian Church is a welcoming congregation as well (with roots in Christianity and Judaism). The three United churches join together to march in the Halifax Pride parade. And "the people who were fearful in those early days are still there," Martin says.
Jewish theology holds mixed views on whether, and to what extent, same-sex relations are prohibited. Civil equality was first called for in liberal denominations in the 1970s, but acceptance in a practical sense has been slower. Rabbi Ari Isenberg, the outgoing rabbi of Halifax's Shaar Shalom Congregation (a Conservative Jewish synagogue) came to his own acceptance slowly, through a personal motivation—his brother is gay. Now he speaks out for the acceptance of queer people, and Shaar Shalom fully supports LGBTQIA rights in its community.
"I was proud to lead Shaar Shalom through a period of transition where we adopted a policy reflecting the full definition of egalitarianism, where individuals or couples—regardless of sexual and gender identification—are afforded full membership rights and access to all rites and rituals of our faith," he says. He estimates eight to 10 percent of the most active congregation members identify as LGBTQIA.
For Halifax Muslims, having a welcoming worship space has been a more recent affair. The Halifax Unity Mosque is a different model of mosque, rooted in social justice issues and without a formal space. Services take place approximately every two weeks in a private home. Syed Adnan Hussein, a professor and one of the founders, wants to stress that it's not just a "gay mosque," as it's often categorized, but a method of creating an inclusive Muslim space "that people can duplicate wherever they are.
"A prayer space is meant to be an aspirational space where you're at the best you can possibly be, and if we're closing the doors on anybody, we're failing," Hussein says.
Also known as the el-Tawhid Juma Circle, Hussein was involved with founding the Toronto circle before moving to Halifax. Before attending the Toronto services, Hussein says, he'd found mosques "exclusionary" and "uncomfortable."
"I assumed my religious self didn't need a community, I would do it all on my own, but I found a community in which a lot of my values jived, and one that accepted me as I was." An ethic he's now bringing to Halifax.