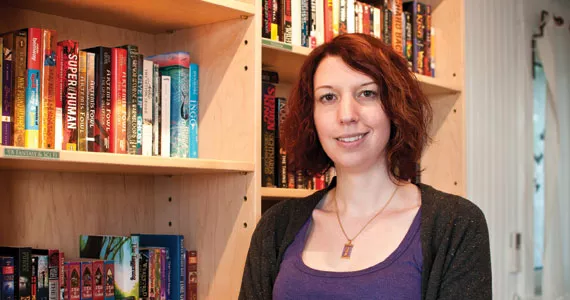 The meat of the issue
We love it when something old is unearthed for us to experience for the first time. One year ago, Frédéric Tandy opened Charcuterie Ratinaud (2082 Gottingen Street, 446-8222), bringing home the European practice of curing meats and making pâtés and sausages. "It's something that people have been doing for hundreds and hundreds of years," says Tandy, who named the shop for his grandparents' traditional cooking. The shop offers more European choices like duck, rabbit and goose as well as in-house smoked salmon. The majority of the meats Charcuterie Ratinaud uses are purchased locally. Is it mildly ironic to open a meat shop in the vegan-vegetarian end of town? Yes, but those who do eat meat tend to prefer it locally sourced and naturally produced. Win. On the other hand, Brothers Meats & Delicatessen (2665 Agricola Street, 455-8774) has been around for decades. Pick up some real mustard if you stop in for pepperoni.
Good food + hostel + dance party = Alteregos Cafe (2193 Gottingen Street, 431-3170). Travellers come here to experience north end Halifax and you can too. The cafe, which is attached to a backpackers' hostel, throws dance parties where locals and travellers mingle Friday mornings, "so guests can get a feel for the local vibe," says office manager Natasha Grant. Expect a range of music from Caribbean to hip-hop. Alteregos serves breakfast sandwiches, burritos and more in a cool space with shelves crammed with books for swapping---a necessity for any hostel worth its salt. For good times on Gottingen at night, try The Company House (2202 Gottingen Street, 404-3050) or the The Bus Stop Theatre (2203 Gottingen Street).
Agricola & North, the hub of the north end
Ace Burger Co. (2605 Agricola Street, 406-8050) moved into the kitchen of Gus' Pub (2605 Agricola Street, 406-8050) this summer, making North and Agricola's claim as the hub of the north end pretty much official. The idea is simple: keep the clean ingredients used at the Ace's parent restaurant, Brooklyn Warehouse (2795 Windsor Street, 446-8181), and simplify into a venue-contained burger joint. Co-owner George Christakos says it's obvious the crowd that frequents Gus' isn't the type to zone out and accept what's standard. As such, those who choose Ace Burger are conscious about what they put in their bodies. "Voting with their dollars," he calls it. That's why the Gus-Ace relationship makes so much sense. If you prefer C100 but aren't into greasy processed food, you can still have an Ace burger for lunch. Charlies Club (5580 Cunard Street) is another good place for a drink and a game of pool.
There's a little Guatemalan place across the intersection from Gus' called Cafe Aroma Latino (5780 North Street, 444-8393). The space is cozy and the Central American atmosphere is pleasant, especially when you're looking out the window onto a cold afternoon. What's neat about Aroma Latino is the tapas menu full of small food items like tamales, quesadillas and empanadas you order as small plates. The cafe is also known for serving exotic and well-priced brunches. On the other side of the cafe there is a grocery section selling imported items from cooking ingredients to sweets and drinks.
On the same street corner there's the Mid East Food Centre and Cafe (2595 Agricola Street, 492-0958). In this refreshingly simple (and minty green) sit-down or take-out cafe you can get Mediterranean and Middle Eastern food. The best deal is four choices for $10. One thing to love about living on Agricola is that the closest places to run to when you need to run out for emergency ingredients are actually of higher quality than the grocery store. The grocery side of the Mid East Food Centre has you well covered for spices, legumes, pitas and a lot of other things you'd curse the gas station convenience store for not carrying. (What, no marjoram? I can't spice stew with a Twix...this potluck is ruined.) Around the corner, Local Source (5783 Charles Street, 454-6014) takes care of your produce, eggs, meats, bread and a slew of other local foods. Indian Groceries ( 585 Robie Street) and The Grainery Food Co-op (2385 Agricola Street, 446-3301) are good bets as well, all within several blocks of each other.
Rounding out the intersection is FRED. beauty food art (2606 Agricola Street, 423-5400), which we won't be talking about because that man has enough publicity right now. (But seriously, go vote for someone.)
First class, second-hand
As you go deeper north, you'll find antique shops, but stick closer to the Common for vintage shops with records, books and art products. Every street has room for a used bookstore. Morgan Dambergs opened Orphan Books (2394 Agricola Street, 425-5013) this summer. Young adult fiction, fantasy and science fiction novels line the shelves and a sale box sits in the corner. Why fantasy? Dambergs says those are the type of books she gravitates toward herself. Often, used bookstores are an old-world mess of piles of books to weave in and out of, but Dambergs' shop is refreshingly clean and organized, like a tiny school library. If you're looking for, say, the eighth book in Robert Jordan's Wheel of Time series, you could likely establish its presence or lack thereof in just a few minutes if you're not the type to enjoy wading through 18 dusty boxes for unexpected treasures.
Speaking of unexpected treasures, Lost & Found (2383 Agricola Street, 446-5986) is the place to go for second hand clothing. This small and wonderfully non-glossy shop lies across the road from Orphan. Outside, the creative window displays are always worth a double-take. Inside you'll find racks of unique items of clothing and interesting non-wearable items as well. That's why they call it "art, vintage and kitsch." Lost & Found also provides a venue for local art and music. As such, it's not uncommon to see a cloud of people spilling from the store out onto the street at night.
Plan B Merchant Co-op (2180 Gottingen Street, 406-1254) also has a rich array of artistic products and curiosities for sale. Among the many collected merchants, be sure to check out Fancy Lucky Vintage, our fave. And there's a lovely honesty (irony?) about aptly named Obsolete Records (2454 Agricola Street, 407-7228). Sure, most people download music nowadays, but there will always be tactile people looking for the real thing. Obsolete carries a good selection of vinyl records and CDs including a lot of local music.
While you're enjoying the respite from corporate shopping, stop in at the Anchor Archive Zine Library (5684 Roberts Street, 446-1788) on Tuesday or Sunday. This place is an indescribably unique treasure trove archiving independently produced printed works. The social centre here also offers screenprinting classes and zine-making workshops, and hosts a ton of community events.
Lastly, remember to watch for signs in people's windows---the homes of north enders breed a slew of informal economies and semi-public spaces doing anything from selling art, used clothing or soap to hosting live music.