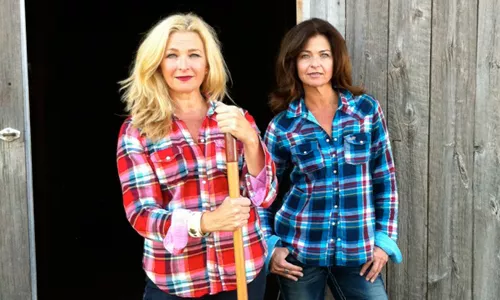 Kathyrn and Janet MacLellan of KAZAN Co-op.
Three actors, a director and a playwright (with an Italian greyhound in tow) file into the Neptune Theatre board room on a dreary January afternoon. The space is big enough that it would still seem ample with twenty people around the table, yet this group radiates enough artistic energy to make the room feel full.
The quintet has come together to talk about Communion, a one-act play written by Daniel MacIvor, directed by Linda Moore and starring Jenny Munday, Kathryn MacLellan and Stephanie MacDonald. Communion had its debut in Toronto with Tarragon Theatre in 2010, and has been brought to Halifax under the auspices of the city's newest production company, KAZAN Co-op.
As both actor in and co-producer of this play, MacLellan wears two hats. She and her sister Janet, a well-known costume designer, started KAZAN as a place to produce Canadian plays that are "human and beautiful" and that "radiate open-heartedness."
"Our tag-line is 'Be in the room with us,'" she says. "I think this play is a really good example of that sentiment. There's a real sense of give and take with the audience."
Communion is the story of Leda (Munday), a terminally ill recovering alcoholic who is trying to reconnect with her estranged and angry ultra-fundamentalist Christian daughter Annie (MacDonald). Leda seeks the help of a therapist named Carolyn (MacLellan) who proves to be carrying her own load of heavy baggage.
It's a story that touches on a wide range of weighty themes such as addiction, the value of therapy, faith and religion and dysfunctional family relationships, but it is definitely not without humour. "I think the initial impression is that this play is going to be quite dark," says Moore. "But despite the fact that it's filled with very specific situations and characters, people are going to recognize themselves in it and identify with it. I think the laughter comes from that recognition."
Moore is obviously delighted to be working with MacIvor, whom she describes as a generous playwright: "Daniel just wants a play to work. He's never afraid to throw things out or change things along the way. You'd never describe him as 'precious' about what he writes."
MacIvor is just as forthcoming in his praise for Moore, who has directed several of his plays including Communion for Alberta Theatre Projects. "There's a special stamp that Linda puts on everything she directs. Her work is always intelligent and incredibly heartfelt. It's direction that doesn't yell at the audience and they tend to talk about things afterward, like how the play made them feel."
Although he's not a fan of attending his own shows, MacIvor says Communion is an exception---it's gratifying to see a sense of communion between actors and audience.
Another of his goals with this work was to write long, meaty scenes that would be challenging and satisfying for actors to explore. The result is a play in the form of a one-act triptych, with the first scene taking place between Leda and her therapist, the second between Leda and her daughter Annie and the third between Annie and Carolyn.
"The dynamics between the characters are different in every scene, so sometimes people say it's almost like watching six different characters," says MacIvor. He pauses, smiles as if a great idea is dawning on him. "It's really like getting two shows in one. Maybe we should be charging double."
Communion, Tuesday, February 7 to Sunday, February 19 at the Neptune Studio Theatre, For times and prices see
xxx - Deprecated in favor of GTM, above.