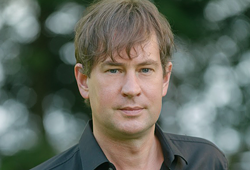 Does anyone really love taking the bus in this city? Sure it's a better for the environment and helps ease congestion. Rarely is it the ideal, the preferred method for Halifax residents. That can all change, says Taras Grescoe.
The award-winning author is visiting Halifax this week from Montreal to run a writer's workshop at the University of King's College and hosting a public talk this evening about his book, Straphanger: Saving Our Cities and Ourselves from the Automobile.
Grescoe took some time to talk with The Coast about why people are still ashamed to take the bus, and how better transit systems are possible everywhere (even in Halifax).
Reading over the book, you talk about having pride in being a straphanger. Why are people still so ashamed of public transit?
"There's a class thing with public transit for sure in a lot of places. It really depends on the city that you're in. I find cities that have bus systems rather than metro or light rail, there's a huge class prejudice in getting on that bus. New York, everybody rides. Chicago, the average income of transit users in Chicago is actually higher by a couple thousand dollars than single-car drivers. It really depends on where you are. Halifax has this legacy of being a bus-based system. There really wasn't a lot of longterm investment in transit. So it's kind of seen as the feet of the poor. I don't blame them, I understand that. But you have to look at the simple fact; one in three people in any city you go to can't drive. They don't have access to using a car because they're too young, too old or have some kind of disability. Basically, you're locking out one in three people by committing to this dominant transportation system. The kind of people who say 'I'm not going to get on the bus' also tend to be the over-privileged, middle-age males who've grown up with cars. They're leaving out vast swaths of society by saying 'Cars work well enough for me.'"
How do we improve that, generally or even specifically in Halifax?
"Well it's pretty obvious you're not going to be building subway or a light-rail network anytime soon. You don't have that kind of money. It's not that kind of place. But you do have a bus system. You do have higher-than-average transit ridership already. What you've got is a sort of inefficient bus system with a lot of duplicated routes. It's hard to use. It's not intuitive. What you have to look at is what people are doing to transform bus systems around North America. That's creating high-frequency networks that work on simple-straightforward routes with lots of transfers and connection points. So, you don't have to do a lot of thinking of where the bus is going to go. It's going to go in a straight line on Barrington, or Spring Garden, and run regularly. Ideally, every seven or eight minutes, but at least every 10 or 15 minutes. In the centre, you would get boosted transit ridership and more volume from the public if you just created a frequent network that worked predictably along the big axes. You give your buses good livery, you identify which ones are rapid, you give them signal priority so they're moving ahead of cars at lights—ideally you give them dedicated lanes—and at that point the people in cars see that the people in buses are getting to work faster than they are. It's a living, a day-to-day reminder of transit efficiency. You make them not a pokey-little vehicle stuck in a traffic jam, but the most efficient thing on the road and you can sell that to people. All of a sudden the bus—the transit, the loser cruiser, the loser's choice—starts to look like a pretty good idea. That's what's already happened in cities around the world, the most advanced cities. The tragedy is in too many Canadian cities we follow way behind. I think that Halifax, with its limited resources, can do a lot with what it's got—make the buses look good, make them run quickly and efficiently."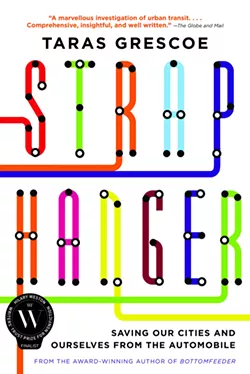 We're in the middle of going through an overhaul with our Halifax Transit system. The initial plan and comments from the authority have suggested that a high-frequency transfer-based system wouldn't work, particularly with the way our roads are laid out.
"They're always making excuses for not implementing things like bus rapid transit. 'We have a mandate to serve this area,' and blah blah blah. I think they're going about it the wrong way. They increase ridership, they increase the popularity of the system—the overall mode share—by putting in that rapid, efficient network. It changes the way people think about transit. Instead of worrying about schedules, they just go to a bus stop and they know a bus is going to be coming along in five or 10 minutes. It's not going to take them all the way to where they're going, but it's going to take them to a transit spot where they're going to have to wait a maximum of five or six minutes to get the next bus which will take them where they're going. It makes riding transit a no brainer, which allows you to do all kinds of other things while you're en route. It allows you to text, read, tweet, get ready for a business meeting. I hate it when transit systems do this. San Diego did the same thing, they were supposed to introduce this bus rapid transit system, but they forgot to put in dedicated lanes so the buses are just basically stuck in traffic with everyone else. It's the same old problem. You've got to go all the way with these sorts of things, or it just becomes another example of a transit fail. If you make that initial investment, you start getting the ridership and it's the opposite of a vicious circle. It's a virtuous circle. Where ridership starts increasing, you have more money to improve the system. Halifax Transit I think is probably just passing the buck."
You mention in the book that privatizing transit is not the way to go?
"I came down against privatizing transit. I've seen some pretty efficient and well-run transit systems that have been contracted out. They're often European companies that do these things. What you get is you get drivers who aren't paid as well, you get employees that don't have pensions, all the union benefits. You end up saving a lot of money because you're going to the private sector. That's tempting for a lot of cities. I just wonder as a transit user whether you want to be in a bus that's driven by a poorly paid guy who's disgruntled and is basically being exploited. These people have the safety of sometimes 80 people on their hands. I'd rather a well-paid municipal employee."
Is there anything about using public transit that still really annoys you or gets on your nerves?
"Sure, yeah. Loud teenagers after 3:30 or 4pm when they fill up a bus. Thank god for earbuds. I'm lucky enough to live in Montreal, where we have frequent buses and a real mix of population on the bus. In big cities like Montreal, Toronto, New York you're surrounded by people who've decided to use transit because it's pretty much the best way to get around. There are still things. One day you'll be sitting next to somebody who's clipping their nails on the bus, and it's like 'What the hell is that?' The classic: the spreader, the person who insists on putting a bag on the seat next to you. But those are also the annoyances of being in public in general; the annoyances of the public sphere. We can never really get rid of them. If anything, they're diminished the more we use the public sphere because standards emerge. I do get annoyed sometimes, but the beauty of public transit is you can get off."
Taras Grescoe speaks tonight, August 6, at the University of King's College's KTS Lecture Hall, in the New Academic Building, beginning at 8pm.
Interview conducted and edited by Jacob Boon
[embed-1]