The Halifax Regional Municipality continues to refuse to tell us how many millions of taxpayer dollars it is paying an American-owned private firm to operate the new four-pad arena in Hammonds Plains.
Coast readers will recall that the city contracted with Nustadia, Inc.---a subdivision of the Ohio-based Cochran Group, with Nustadia's corporate offices in Calgary--- to operate the arena, but did not make that contract, or the terms of the contract, public. The Coast filed an Freedom of Information request for the information.
Today, Monday, we received a copy of the 150-page+ contract, but the essential detail---the dollar amount of the contract---is redacted. In a cover letter, Nancy Dempsey, the city's Freedom of Information officer, justified the censorship by saying that "the release of these records could reasonably be expected to harm the financial or economic interest of the municipality as it could impact its current and future negotiating positions ... and [...] the release of these records would reveal commercial, scientific, technical and financial information... of a third party."
We reject that reasoning, and will appeal HRM's decision to the Freedom of Information review officer. As I wrote in March:
Whatever the secret dollar amount of the Nustadia contract, it's no doubt very large, and runs for a very long time. Figure a 20- or 30-year contract (Nustadia has entered into 30-year contracts with other cities) at, say, anywhere from a half a million to $4 million a year (could be more, could be less, who knows?)---in any event, the contract is likely in the ballpark of a few tens to hundreds of millions of dollars.

A contract of this size gives plenty of opportunity for bribes, kickbacks and other forms of graft that are much easier to prevent when more than a handful of City Hall staffers are looking at them. The entire point of public access and Freedom of Information laws is to establish transparency, legitimacy and confidence in governmental contracting and purchasing---it's therefore in councillors' and staff's own interests to make this information public.

Even if we assume City Hall officials made the wisest choice for city tax dollars---but why should we assume such a thing if we can't see the numbers?---Nustadia has a worrisome track record: the City of Guelph had to come up with $3 million after Nustadia defaulted on a city-guaranteed $10 million loan for Guelph's Sleeman Centre arena complex. Is HRM any better protected with its Nustadia contract? It's not for us to know, evidently. City Hall's response to that question is, basically, "trust us."
The relevant redacted parts of the contract are shown below: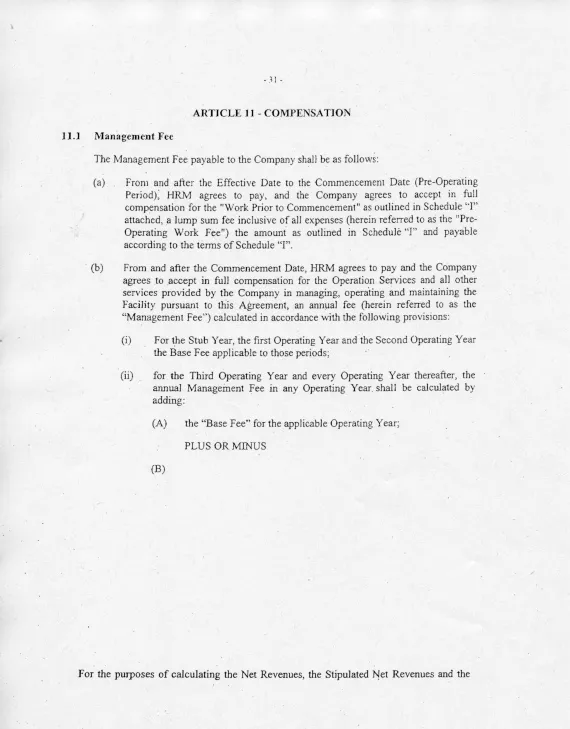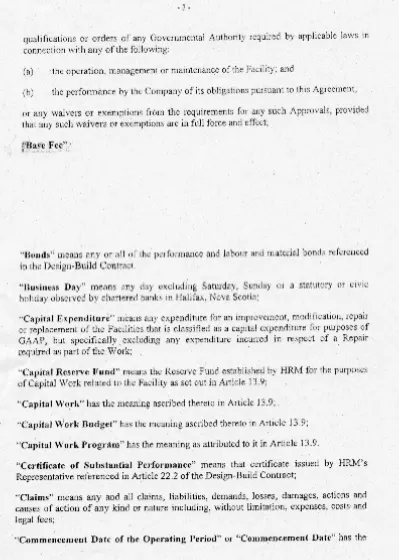 Still, there is some useful information in the contract. We now know that the term of the contract is 20 years, but that the city can automatically renew it for up to two five-year periods.
And, the contract explicitly states that all arena employees "shall be paid by [Nustadia] and be under the control and direction of [Nustadia] at all times and shall under no circumstances or at any time be deemed or implied to be employees of HRM." This, of course, was the entire purpose of contracting with Nustadia in the first place: to save money through an end-run around the public employee unions. Or, put another way, by paying arena workers a crappy wage.