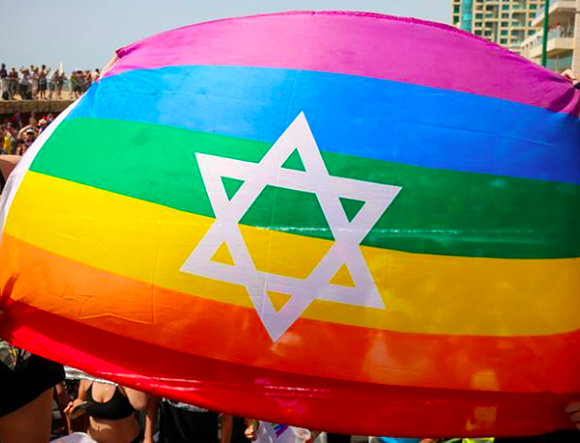 The promotion of Tel Aviv tourism at Halifax Pride continues to raise debate, but a member of the Atlantic Jewish Council says the Queer Arabs of Halifax and other concerned groups are misinformed about his organization's presence at Pride.
Last week, the Nova Scotia Rainbow Action (NSRAP) project launched this petition, declaring solidarity with Queer Arabs of Halifax to demand that Halifax Pride remove Tel Aviv tourism promotions from Pride's community fair (and other events), and ban its future presence and sponsorship at Pride.
NSRAP Board Member Ardath Whynacht says the organization isn't interested in anyone being excluded from Pride, instead in making the community fair welcoming for everyone.
"We do not believe that it is important for Halifax Pride to be prioritizing political lobby groups over creating a welcoming space for all sorts of organizations," says Whynacht.
The petition, which currently has 138 signatures from the likes of local organizations like the Rainbow Refugee Association and members of South House, rejects the inclusion of "any organizations that directly, or indirectly, supports armed conflict where human rights and international humanitarian laws are being violated" and demands that Pride "publicly commit to prioritizing queer and trans people of colour."
But Schuyler Smith, who sits on the board of the Atlantic Jewish Council, says the narrative built up around the Tel Aviv tourism promotion isn't totally accurate.
"It's our local community table, and the petition seems to be either misinformed or misleading calling it the Tel Aviv tourism table," says Smith.
The Atlantic Jewish Council partners with the national Centre for Israel and Jewish Affairs on the tourism promotion, through the CIJA's "Size Doesn't Matter" campaign.
"They [Size Doesn't Matter] help us with the table by providing materials for us and we provide the volunteers," says Smith.
There is tourism material present, promoting Tel Aviv's large Pride festival, but it's all coming from the Toronto-based organization and not from Israel itself. Smith feels that distinction is important.
"We're talking about our community, and what they do positively," he says. "Israel isn't a perfect country, [but] I still think it's right that we celebrate our achievements."
Smith, who says he hasn't consulted with Queer Arabs or Halifax Pride on the issue, believes that barring the tourism table would mean excluding Jewish people from Pride.
"We're not attacking another group, and trying to shut down a positive message does not add to the discussion," says Smith. "I think the most important thing we can do about a topic like Israel is talk about it."
Last week, a spokesperson for Queer Arabs Halifax told The Coast that the Tel Aviv tourism promotion prevented them, and other Arabs in the LGTBQIA community, from feeling safe participating in Pride events.
The NSRAP echoes those comments, saying the presence of Tel Aviv promotion at Pride is pink-washing—using Israel's LGBTQIA friendliness to distract from the country's policies and actions against the Palestinian people.
"From our perspective, and this is in line with Queer Arabs of Halifax, this is a really important year for queer communities to be looking at the relationship between race and queerness," says Whynacht, referencing Black Lives Matter's demonstration at Toronto's Pride parade.
"We know that for much of Halifax's history, Arabic was the second most common language in Halifax. We also have a big influx of Syrian refugees coming to our community...So as an organization, we're very much invested in making sure that our official, and even our unofficial [LGBTQIA] celebrations are welcoming for Arabic-speaking queer people."
Halifax Pride's board of directors say they received a letter from the Queer Arabs of Halifax and several partner organizations about the issue on June 23, and met with the group about their concerns earlier this month. In a statement released on Sunday, Pride says it's been listening to the "diverse perspectives" about "Size Doesn't Matter," but the board feels it can't decide its future place at Pride events without more community guidance.
"We have been, and are, listening," the statement from Pride reads. "Our intent has always been and continues to be that of having an open, forthright and productive dialogue which will enable us all to move forward as one."
Smith says that whatever the result, he's hopeful it won't mean excluding anyone from Halifax's Pride festivities.
"If anything comes of this, I just hope it's positive."
Pride plans to host a post-festival community forum in August, which will bring forward concerns at the organization's annual general meeting in the fall.