10
Moving Forward, Looking B(l)ack: Visual Art in Nova Scotia
Friday

Archival research shows that despite Nova Scotia's wealth of Black artists and curators, public knowledge of their work remains limited. To change that, this North Memorial Library panel of Black and Afro-Indigenous women discuss their practice and experience in the visual arts in Nova Scotia.
9
The Maritimes Natural Hair & Beauty Show
Sunday
This celebration of natural hair features folicle-focused workshops, info sessions and panel discussions at Pier 21.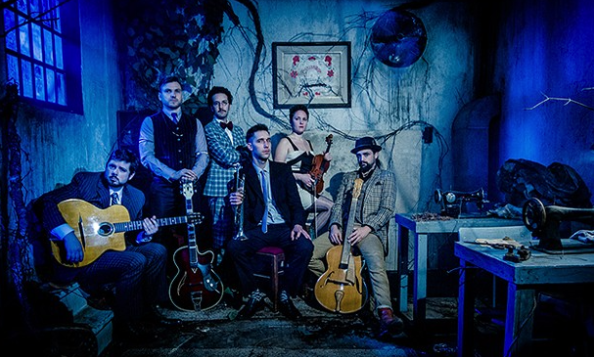 NATHAN BOONE
Gypsophilia hangs up its jazzy party hat on Friday (see 2).
8
Maureen Batt
Thursday
Soprano Maureen Batt brings the epic with a powerhouse voice and classical style at this Central Library show.
7
Rumble: The Indians Who Rocked The World screening
Friday
Carbon Arc screens the 2017 documentary that dives into an essential, overlooked chapter of rock 'n' roll history: The Indigenous influence.
6
Orlando
Thursday // Friday // Saturday
This Dalhousie Arts Centre theatre adaptation of Virginia Woolf's classic novel sees Orlando, a beautiful nobleman, wake up in a woman's body, 100 years in the future.
ivaluarjuk.com
Iva brings a blend of throat singing and Celtic folk to the Seahorse (see 4).
5
To The Root: A Radical Look at Food Justice
Friday // Saturday // Sunday
Workshops and lectures at Veith House covering topics from winter gardening to food insecurity help the Loaded Ladle make you aware of the politics on your plate.
4
North Meets East: Iva at The Seahorse
Saturday
Iva bridges her Inuit and Celtic heritage, combining throat singing with roots-y folk.
3
Hockey and the Black Experience
Thursday
A short documentary chronicling the historic all-Black line of hockey players at Saint Mary's University in the '60s and '70s kicks off this double feature, followed by Soul on Ice, which shares the history and current state of play for Black hockey players. A panel discussion with members from that line—Bob Dawson, Darrell Maxwell and Percy Paris—and the iconic Willie O'Ree, the first Black player in the NHL, follows the films.
2
Gypsophilia: The Final Show
Friday
Over 10 years, five albums and countless shows, Gypsophilia is finally hanging up its rhinestone-studded party hat at The Marquee. Say goodbye in sweet, jazzy style at this, the final show.
1
Nocturne 2017
Saturday
Nocturne, the wildly wonderful night that turns Halifax's streets into art gallery halls, turns 10 this year. There'll be dozens of surprises to be discovered on a wander through town, but a few events that are generating extra buzz? The live harp playing of avant-garde performer M'Michèle at Grand Parade Square and Airhorn, a live video performance and interactive soundscape taking over the Central Library.