10
Meatballs and Strange Brew screening
Friday

The Atlantic Film Festival Outdoor Film Experience series finishes with a double bill at the Public Gardens:
Meatballs
, the 1979 flick about a less-than-average summer camp and its wacky councillors, and
Strange Brew
, the classic 1983 laugh-fest following Bob and Doug McKenzie's quest for free beer.
9
India Fest
Friday // Saturday // Sunday
Come for the vindaloo, stay for the bhangra! Experience Indian culture, food, dance and music at this year's India Fest.
Get ready for good food and lots of fun (including henna!) at India Fest (see 9).
8
Next to Normal
Thursday // Friday // Saturday // Sunday
The Tony award-winning musical that follows a bipolar mother and her family arrives at The Waiting Room with a rock-heavy soundtrack.
7
Halifax Seaport Beerfest
Friday // Saturday
Craft brews, big names, special casks and tasting nibbles are all on offer at this bustling two-day beer bonanza. Raise a tiny stein to Seaport Beerfest in its 11th year.
6
Old Man Luedecke
Friday
Nova Scotia's famed, folky singer-songwriter returns with a new record and roots-driven sound for what's sure to be a sellout show.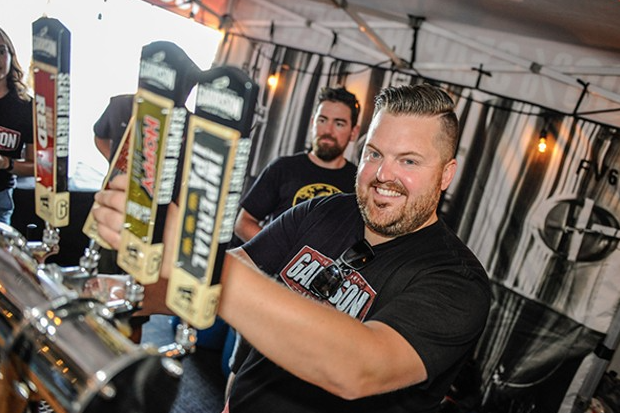 CHR!S SM!TH
Raise a tiny stein to the Seaport Beerfest's 11th year (see 7).
5
SAY something: Exploring rainwork art
Saturday
Paint the town red? Well, this group of local artists have painted the town in text—that's only viewable when it rains. Here, Argyle Fine Art helps you see the secret writing on the wall (and the sidewalk), equipping adventurers with a bucket of water and a map.
4
DCAF kick-off party
Friday
The Dartmouth Comic Arts Festival gets things going with a night of nerd-core noise from the likes of Wordburglar (who'll also be dropping a new album at the show), The Bad Nintendos, Vadell Gabriel and more.
3
Gus' 95th birthday bash
Sunday
The wise tortoise who's equal parts museum mascot and grumpy gatekeeper celebrates his big day with cupcakes, lemonade and good cheer.
2
Northern lights lantern festival
Saturday
The 14th edition of this annual, north end festival sees fun for all ages with a barbecue, lantern-making, pony rides and more. The night is capped off with a parade of lanterns and a fireworks display.
1
Dartmouth Comic Arts Festival
Sunday
The biggest little comic book show returns for its sixth year, with a host of uber-talented comic book creators, cartoonists and illustrators in tow! Read all about it (and see samples of their work) in The Coast's first-ever all-illustrated issue this week.