Submitted photo
Hat game on fleek, Mr. Sampson.
F
olk music strained through an indie-pop sieve is the signature of Nova Scotia's own Dave Sampson, who arrives at The Marquee on Oct 19 to celebrate his new album,
All Types of Ways
, with a hometown(-ish) show.
Sampson was born in Cape Breton and spent time in Nashville as he cut
All Types of Ways
, meaning he's most at home in the sorts of spots where music is a strong thread in the cultural fabric. Having collaborated with the likes of Gordie Sampson and Donovan Woods, the balladeer is ready to win you over.
Here, he answers our questionnaire.
1. What was the first album you bought with your own money?
No joke, The first album I ever bought was
Chumbawamba
. I remember saving up my money and walking to the Sydney Shopping Mall (we called it the grub mall) and buying it at Sam the Record Man's.
2. If you were to name your influences, which name on the list would be most surprising?
Gordie Sampson
Kacey Musgraves
Tom Petty
Jason Isabell
Rita MacNeil ( Most surprising? She's a Cape Breton legend!)
3.What's the best concert or live performance you've ever gone to?
I've seen a lot of concerts over the last few years but I saw John Prine at the Rebecca Cohn a few years ago and that was really special. I have been a fan of his music and writing since I was a kid. HIs voice isn't great these days, but the songs still hold the same amount of weight.
4. What one thing/person outside of music has shaped the way you make music?
I think growing up in Cape Breton shaped the way I make music and how I perform. It's such a musician community there and I realized quick that there are no free claps in Cape Breton—meaning if you wanted the respect and attention of the listeners you need to have you performance together.
5. Share the last GIF you used below:
6. Share the last shot on your camera roll below: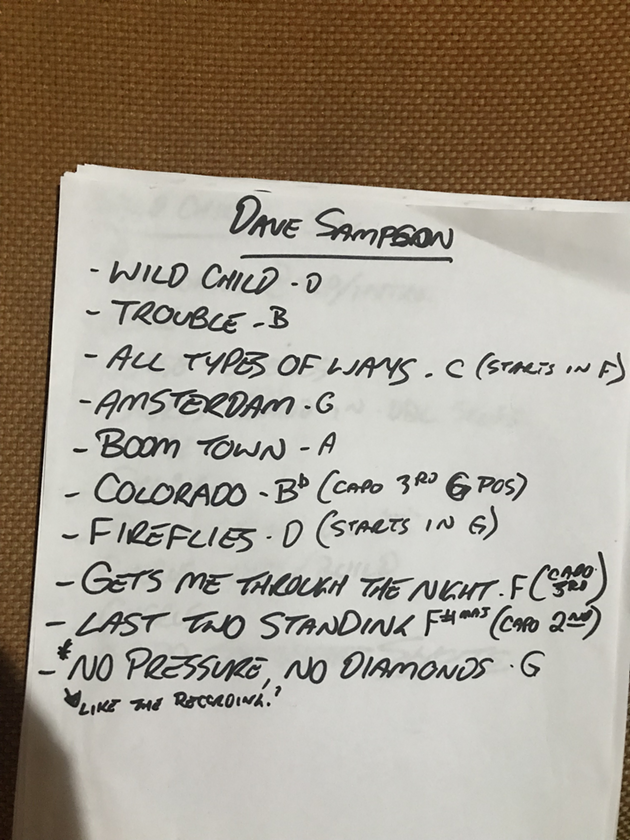 [Editor's note: Sampson's set list makes good
on our theory that building the perfect concert is, indeed an art
.]
8. What's your perfect cure for a bad day?
I think getting together with friends and shooting the shit, that usually will take my mind off anything thats bothering me.
9. What's the best part about being a musician?
Being able to create my own schedule has been awesome, I always had a hard time working for other people so its nice to be in control now and decide if I want to do something or not.
10. What do you do when you wanna treat yourself?
DENIM.
HATS.
MOSCOW MULES.