10
Scientists of Sound w/Slowcoaster, Elephant Skeletons, Norc
Saturday

Get lost in a Technicolour dreamscape as Scientists Of Sound bumps epic beats at the Marquee's wild Halloween celebration.
9
The Extinction of Hong Kongers
Thursday // Friday // Saturday
As this playwriting duo sees it, Hong Kong lays in the ether, its culture sinking slowly between the island's pan-democrats and mainland China. With recycled materials and cardboard, they build the old Hong Kong, showing its slow demise from The Living Room stage. Part of DaPoPo's Live In theatre fest.
Lindsay Duncan photo
Gabrielle Papillon debuts a new album Saturday (see 2).
8
Hal-Con Halloween Parade
Saturday
Attention freaks, geeks and anime fiends! Just when you thought the fun of Hal-Con was over for another year, the celebration of sci-fi, comics and fantasy rolls out its fifth annual Halloween parade. Arrive in your best cosplay for this march departing from the Central Library's front plaza at 8:30am.
7
Another Spooky Night at the Movies: The Monster
Friday
If you like your horror served with a vintage twist, this 1925 flick should do nicely. Shawn Whynot, organist, provides a live soundtrack to the silent film The Monster, which follows a mad scientist's ghastly experiments. Grab your tickets to the Bethany United Church screening by calling 902-455-0521.
6
Les Robes De St-Anne
Sunday
Co-Julie Danse takes its choerography to new heights with a show combining dance, acrobatics and magnificant costumes—performed on stilts—at the Via Rail station. Part of the Acadian cultural celebration Franco Fest.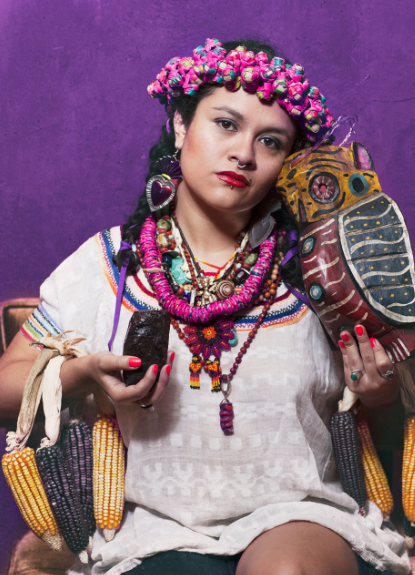 tickethalifax.com screenshot
Rebeca Lane's first Canadian tour arrives at The Bus Stop Theatre Friday.
5
Rebeca Lane w/DJ Regalia, El Jones and guests
Friday
The Guatemalan hip hop artist's feminist works explore her country's tumultuous history—and take aim at neoliberalism. She drops verses from her 2016 record Mestizo Soul at The Bus Stop Theatre as part of her first-ever Canadian tour.
4
Science, Spirits & Boos
Saturday
If Halloween has you itching to bust out your inner Doctor Frankenstein or mad scientist, rest assured that the Discovery Centre is on your wavelength: Its adult-only night returns for hands-on experiments, eye popping demos and a bumpin' dance floor.
3
An Evening with Scaachi Koul
Sunday
The Coast's love for culture writer Scaachi Koul (author of One Day We'll All Be Dead and None of This Will Matter) runs deep, so naturally we're PUMPED to be bringing her to the Central Library to discuss her debut collection of alternately biting, hilarious and touching essays.
2
Gabrielle Papillon
Saturday
The singer-songwriter known for breathy, billowing vocals debuts a new album (and envy-inducing purple bob) that blends somber piano chords with tense orchestration at the Bus Stop Theatre.
1
Detox HalloQUEEN Tour
Thursday
RuPaul's Drag Race alum Detox graces you with her high-fashion presence for Pacifico's Halloween-themed show. The ticket price might feel steep (at almost $40) but it's not every day royalty comes to town.
Looking for more ideas? Check our list of 25 ways to get your thrills this Halloween!