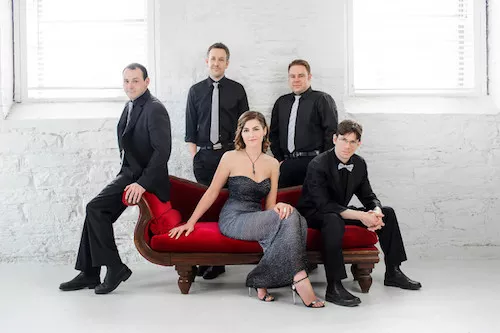 We're cutting cake for Castro's 90th, getting our groove on with The Chess Club and squeezing in some late summer stargazing.
10.Halifax Summer Opera Festival. To Aug 14. Back for its third season, the Halifax Summer Opera Festival features the best in Maritime opera talent. This year's festival is very Italian with performances of Handel's Rodelinda, Mozart's Cosi fan tutte and Puccini's Gianni Schicchi. For the serious opera lover, you can be there for every cadenza by purchasing a season pass.––Shelby Bona
9. India Fest 2016. Aug 12-14, 11am-8pm. Head to the Halifax Forum and get a henna tattoo, try some curry, and get to know more about Indian culture at this three-day festival.
8. North by Night and Further North Markets. Friday, Aug 12, 7-10pm. Lower Gottingen Street lights up this Friday night as Squiggle Park and Plan B deliver curated collections of oddities and things you never knew you wanted! These doses of pop-up fun are within walking distance of each other, so why not see both?
7. DJ SOULCIAL: DYING2DANCE. Saturday, Aug 13, 10pm. Nova Scotia born DJ Soulcial is bringing his big beats back home for a night of madness on the dace floor. Featuring everything from funk to hip-hop, this is a night out clubbers won't wanna miss.
6. Salvage Book Launch Party. Sunday, Aug 14, 4pm. Author Stephen Maher heads to the Economy Shoe Shop to celebrate the launch of his novel, Salvage, a murder-mystery-thiller set on Nova Scotia's south shore.
5. The Chess Club w/Raegan Boucher. Friday, Aug 12, 10pm. A Hali-famous dance band that's calling it quits after years on the stage, this will be The Chess Club's farewell performance. Call it the end of an era and one more reason to bust out your dancing shoes.
4. RITUAL/VIRTUAL. To Aug 13. Interdisciplinary work focusing on how perpetual internet use can be both frustrating and relaxing, this exhibit explores the gap between virtual and analog art practices. As the gallery puts it, "RITUAL/VIRTUAL is trying to filter internet trash."
3. Fidel es Fidel Screening. Thursday, Aug 11, 6:30pm. Celebrate the 90th birthday of the larger-than-life Cuban leader Fidel Castro at this biopic screening and panel discussion. For politics nerds or lovers of Cuba's sunny shores, this is the chance to learn more about the often-misrepresented revolutionary.
2. SeaLight SkyLight Festival. Aug 12-13, 7-11:30pm. The Deanery Project's third annual outdoor festival, held in Ship Harbour (751 West Ship Harbour Road), brings together science, art and nature. See the stars, be amazed by the harbour's bioluminescence (that's glow-in-the-dark plankton), and maybe even spot a mermaid!
1. Clam Harbour Beach Sandcastle Competition. Sunday, Aug 14, 9am. If you've ever dreamed of winning an award for this under-appreciated skill, your time is now. This competition recognizes architects and engineers who are bold enough to dream. Enter for your chance to win cash prizes, enjoy food vendors and groove to live music while spending your day on the beach. There will even be a shuttle service to transport you there. So get your beach pails and bucket hats ready, folks! May the sand be with you.––Ashley Corbett