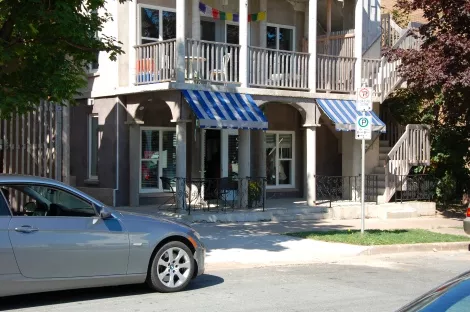 Liz Cunningham
opened her north end restaurant under the name Chez Tess Creperie (5687 Charles Street, 406-3133) in 2009, but found that the name was scaring people off. First, she dropped the "Creperie" because "people though sweet or breakfast crepes, but we serve all sorts of dinner crepes--scallops, ham, chicken and a wonderful cordon bleu crepe---in the evening." She still serves crepes---"and always will!"--- but they've moved down
the menu
a bit under the heading "Tess' Classic Crepes," below entrees such as a haddock dinner, Louisiana grill and baked salmon, with two brand new dishes, a scallop pasta and jerk chicken.
Now, Cunningham is dropping the "Chez" and the restaurant is known simply as Tess. The new sign is going up today. "The 'chez' suggested a french restaurant," she says. "I'm an Irish kid from New York City." She's positioning the restaurant as a "friendly neighbourhood place, where people can stop for an after-work drink and appetizers," and so she has an appetizer menu of salads and cheese boards.
Coincidently, the name change comes just as Cunningham has received permission from the city to turn the back yard of the building into a patio for her business, with room for 40 people. She'll have a completely different menu for the patio, a more casual selection of barbecue, hot dogs and the like, as well as a second bar.