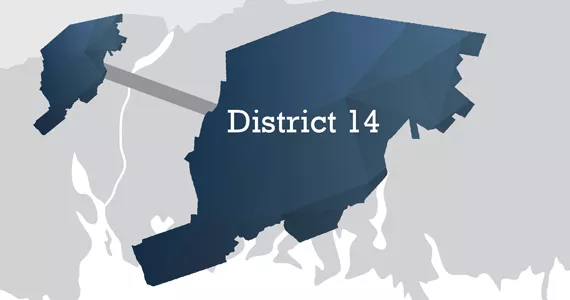 AKIRA ARRUDA
District 14 includes the communities of Lucasville, Beaver Bank, Middle and Upper Sackville, and a northwest portion of Hammonds Plains. Click here for HRM's boundary description.
Change could be in the air for District 14. Voters in the suburban sprawl of the Sackvilles and other rural residents will have to choose between an absent, popular incumbent who's challenged by two strong newcomers.
Eligible voters: 16,496 (as of 2014)
(Up about 1,000 people from 2012)
Past voter turnout: 28.45 percent
The Candidates
Current councillor Brad Johns has represented the area for 16 years. He's also HRM's most-absent councillor two years running. Johns claims his time is better spent at seniors' dinners than voting in City Hall, which helped him score an F in this year's council report card. He's has also refused to speak with The Coast during the election because of our past coverage. Johns is being challenged by former radio broadcast journalist and community service volunteer Lisa Blackburn. She's joined several other candidates across HRM in calling for term limits, which could be interpreted as a stab at Johns. Blackburn has also been endorsed by Peter Stoffer—the popular and longstanding former MP for the area. The two opponents are up against North West Planning Advisory Committee member Kevin Copley, who's likewise taking shots at Johns' perceived lack of leadership in his campaign materials and even his "time for change" election signs.
The Issues
With a residential district comes the relevant residential concerns, such as pedestrian infrastructure (a lack of sidewalks, crosswalks, bus shelters), and infrequent transit. The community of Lucasville is lacking in bus service altogether—a concern that was submitted to council for a transit plan amendment back in April. Like other rural district, land use bylaws have sprung up as an issue in Middle/Upper Sackville—Beaver Bank—Lucasville. The municipality recently started to reinforce an obscure by-law that requires all lots to have a certain amount of public road frontage in order to obtain a building permit. Last week, residents and members of the protest group Save Rural HRM, held a protest outside of City Hall on the problem, joined by Blackburn and candidates from several other district. The district also had the lowest turnout in 2012's election, but an extra 1,000 voters this time around could swing the pendulum in what comes down to a referendum on Johns' work.
Click here to find out more info on how, where and when you can vote in HRM's election.