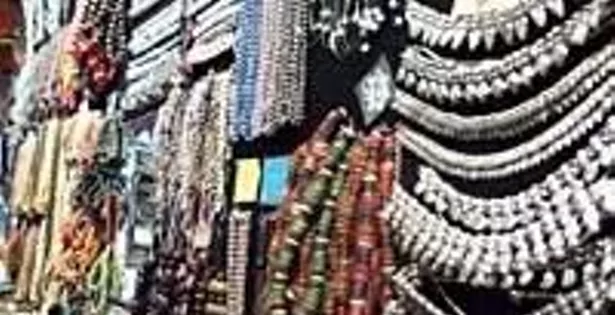 Public art enriches a city, whether it's the mural-style mirror of a street scene or university campus on a power box, or a majestic insight into a foreign-land on the face of a building. In honour of the Black Market's (1545 Grafton) approaching 20 years in business mark –celebrations are tentatively scheduled for October 9 –owners Dominique and Dawn Villermet have commissioned artist Hunter Fournier to paint a mural of scenic portraits of India on the bricks of the Black Market. Even on the hottest, most muggy days Fournier has been found outside crouched below the summer dresses and discount items recreating snippets of India for the past few weeks.
"The owners go over to India frequently on buying trips for the store," says Fournier. "I'm totally Scottish and previously had no interest in India, so I had to do a lot of research. The more photos and people I saw, the more inspiration I gained –it's truly a beautiful place."
Currently Fournier is working on some rather significant details –trees, elephants, peacocks (India's national bird), which are symbolic of knowledge, luck, beauty, grace, pride and mysticism. For Fournier this is a great cultural experience, not to mention the art school dropout's debut public work. When he's not painting on Grafton street for nearly 10 hours a day he's working on a comic with aspirations to self-publish sometime in the near future.
The Black Market intends to give all proceeds to various charities on the date of their platinum anniversary. Until then drop on by for a poke around or call 423-5724.