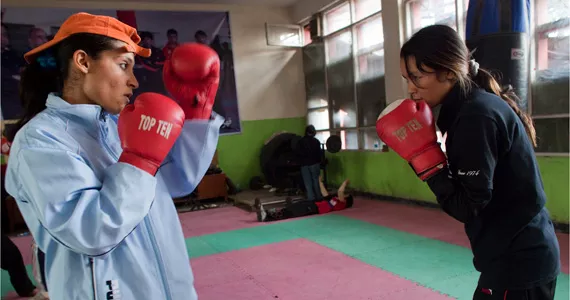 Rafaela Persson
Young women fight tradition in The Boxing Girls of Kabul.
When Ariel Nasr was asked to film his first feature for the National Film Board, he packed his bags and moved to Afghanistan for what he thought would be a short trip.
"I really wanted to tell a story about Afghanistan and decided to move there for six months, which seemed like a long time then, but I ended up living there for three years," he says.
While living overseas he finished his first documentary, Good Morning Kandahar, a film that explored Afghan-Canadians' relationships to the war. He started to wonder how much Canadians knew about the state of women's rights in the country post-Taliban rule. That's when he heard about a girls-only boxing school that started up in Kabul's old Olympic Grounds in 2007.
The result is The Boxing Girls of Kabul, a documentary featured at ViewFinders---April 15 to 21---that follows three intrepid boxers as they attempt to gain entry into the London 2012 Olympics, all against the backdrop of Kabul's shifting cultural landscape.
To film the documentary, Nasr spent the majority of his time in Kabul, immersing himself in the culture and gaining the boxers' trust, paying out of his own pocket to feed them while they were training.
"A lot of people, when they do video journalism or short documentary in Afghanistan, it's a really quick in-and-out process," he says. "Where I was going to stick it out with this team for over a year, I needed to really make sure that everyone was on board."
But that doesn't mean he didn't have his share of struggles as the girls ---between 16 and 18---began to gain domestic and international attention.
"My access to the girls was tenuous at a certain point because the families were upset---and the girls were upset to a certain extent---due to the amount of the sheer number of photographers that were coming to the gym," he says. "They were starting to get a high profile."
The coverage began to have negative effects. Although Nasr says he never experienced any real danger or tension with locals while shooting, the film portrays the boxers receiving threats and being harassed for their decision to fight. Because of their growing attention, he promised not to show the film in Afghanistan, even declining a screening at the Canadian Embassy in Kabul.
But since filming, Nasr has seen a slow progress in the acceptance of women. "Afghanistan is very fragmented and you find all kinds of diversity of opinion and diversity of culture," he says. "But in Kabul certainly and other big cities there is a definite change."
The boxers are maturing in their sport as well. Although the school has been open for five years and they have minimal funds for training, one of the subjects featured in The Boxing Girls of Kabul is rumoured to have won a wild card for the London Olympics, while others have medalled in international competitions.
Nasr hopes their success in the world of boxing and their battle against adversity inspires Canadians to fight for what they believe in. "These women are living in a very different time and a different place, but they have the same feelings and the same motivations," he says. "They're working hard to achieve their own dreams."