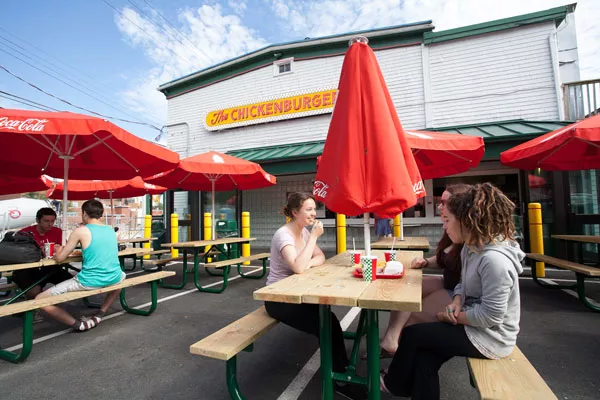 Lovers of The Chickenburger who waited with bated breath for the arrival of it's downtown location last spring: you've got a few days to get your last fix. The restaurant's owner Mickey MacDonald has announced that he'll be shutting down the Queen Street diner on December 1, in preparation for it's demolition before the year's end. The reason? He wants to get working on development plans he has for the block.
"With all the offshore work, the big ship contract...all of the work the city's going to do downtown, if I don't do it now, I might miss the boat," says MacDonald, who'll be working on development permits and architectural plans in early 2013 and hopes to break ground in late spring/early summer. He adds that the two proposed buildings will feature first-floor retail, with apartment space above. "It fit in there pretty nice," says MacDonald of the loss of the shiny, new Chickenburger space. "It's unfortunate, but with all the things that are happening, it's the right time to do it." Noting that his Queen street resto has been incredibly popular, MacDonald says he hopes to re-open the spot, alongside other retail, in his new development. "It'll bring more employment, more traffic," he says. "It'll be a win-win for everyone."
While I always welcome the excuse to snack at the Bedford location (juke box hog, here), you can still get your south end chicken fix on by taking your cravings to Dalhousie's Student Union Building. Yeah, there's a Chickenburger there, too.