Every city's got its colour. Halifax, on rainy spring evenings, is a hazy purple-blue. Toronto, in contrast, is undoubtedly grey. There's a certain monochrome here that can't be recreated in any other city; Laurentian should develop a Toronto grey colour pencil.
We wake up to that special shade of grey. Rain's forecasted all day — and there's that awful humidity in the air that precedes a thunderstorm — and that's bad news, both for Pavement show-goers, who'll be stuck on an island all day, and those catching NXNE's outdoor headlining set from Iggy and the Stooges.
Marianne Madeline Lau
Les Savy Fav DJ set @ Cheval
But the weather holds up, and we start the day on a King Street patio for a Vice Magazine / Fred Perry party, where Les Savy Fav are playing a DJ set. There are few Level Plane classics being spun here, sadly, but it's a serviceable lineup of Jock Jams and the beer's flowing. I feel less guilty drinking Vice's beer than I do eating Hollerado's nachos.
The people are pretty and the conversation boring, so my team elects to cover my bag with Fred Perry pins. I can't tell if I look like the world's best-dressed tween-punk fakenger or the world's biggest asshole. Probably a little from column A, a little from column B.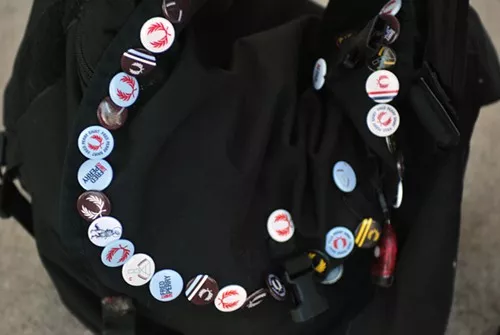 It's a promising start to the day; we get our jollies in before heading to the see the Raveonettes and Iggy Pop play for free at Yonge and Dundas square.
Raveonettes
On record, The Raveonettes sound huge in a spooked-out, shoegazey kind of way. But live — especially blared out over stacks taller than most driveway basketball nets — they sound even larger. I can still feel Sharin Foo's bass tone rattling my sternum.
Anyhow, the Dutch duo are frequently described as a garage-y band, but in a fest setting, I'm going to disagree. With the amount of pedal-drenched distortion going on here — and with the boy-girl harmonies buried in the mix — this sounds more like My Bloody Valentine than anything remotely jangly. But that's a good thing, and there's something inherently pleasing about being able to hear "Heart of Stone" inside the walls of the Eaton Centre (which, by the way, is across the street).
Iggy Pop and the Stooges
"Welcome to Toronto," she said. And by she, we mean NXNE's press coordinator, who has just denied us photo access for Iggy Pop. We're shut down, but run into Fucked Up singer Damian Abraham — perhaps the best embodiment of the "good band, good dude" hardcore cliché — his wife, Lauren, and their adorable son, Holden. Here they are on the right side of the photo line; we're jealous.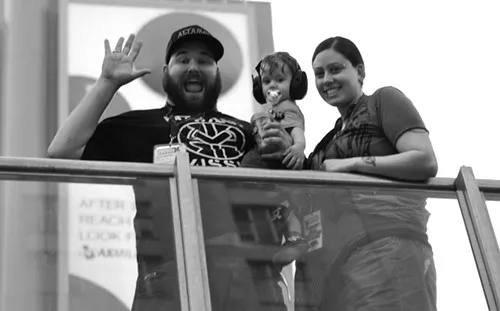 Marianne Madeline Lau
Damian, Lauren and Holden @ Yonge and Dundas Square
Apparently — aside from the fact that a Brooklyn Vegan photographer canoodled his way in — you had to register for weeks in advance for photo access. My ballsy photographer, Marianne Lau, gives me cut-eye for being so irresponsible; nonetheless, she braves the giant crowd with her plus-size SLR for pics. This is all she got ("I felt like I was 13 years old trying to snap a picture from the moshpit at a Silverchair concert," she notes) and I commend her for getting these: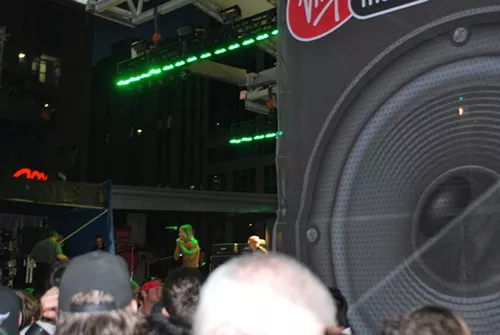 Marianne Madeline Lau
Iggy Pop @ Yonge and Dundas Square
Marianne Madeline Lau
Iggy Pop @ Yonge and Dundas Square
As for me, I'm at the front of a thousands-strong crowd just south of the stage. I can barely see him, but I can certainly hear it when the 63-year-old Iggy — still all hips and nips — hits the stage. The crowd immediately rises to meet Iggy when he climbs up to the barrier, while the police surge to meet them. And there are plenty on hand, as evidenced here: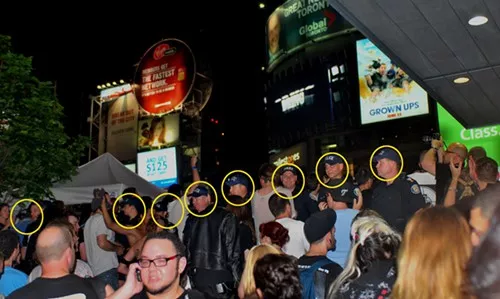 Marianne Madeline Lau
"Piggies love Iggy," one observant showgoer said.
By the time he performs "Search and Destroy" — the third song in his set — my ribcage, with thousands of people crushing it against a security barrier, feels like it's imploding.
Iggy announces that they're the "remains" of the Stooges — legendary Minutemen bassist Mike Watt is filling in on bass, and quite admirably, at that — and they make quick work of their 1973 proto-punk epic Raw Power. The crowd's peacefully riled up, and when he invites members up to stage midway through the set, it's almost easy to forget that the show's at the centre of a festival in downtown Toronto.
Aside from some oddball stage banter (he mentions being "crucified" for the almighty dollar while staring down Toronto's gaudy answer to Times Square), Iggy barely loses steam throughout the hour-plus set. He careens around the stage like a ragdoll, finally ending the performance with an encore featuring "Fun House" and "No Fun." As for us, we're sweaty and beat, with the Vice party hangover forthcoming.
The Gentlemen Husbands
We next manoeuvre our way into Parkdale to attempt to catch Surfer Blood and Les Savy Fav at Wrong Bar. From Yonge and Dundas, it takes us over an hour to get there, I'm told, due to a car stalled on the streetcar tracks. If this what Toronto's like with a minor traffic inconvenience, I'm terrified to see what it's like during the G20.
As we arrive, we catch wind that delightful surf-stress The Best Coast is the secret guest for the show; as expected, the line's going down the block, and we're never getting in.
We opt to catch Cobourg roots quintet Gentlemen Husbands across the street The Cadillac Lounge, a long-time Toronto rockabilly haunt. The Husbands — who I interviewed earlier this year — play to a sparse crowd, but the venue's perfect. Faces light up when they play Tom Petty's "American Girl," while "Compaction Girl" — perhaps the strongest track from their 2009 EP — is met with relative indifference. They're much louder — and less country — live, but at 1 AM after a week of non-stop shows, it doesn't look like Toronto's waking up.
I'm not sure if it's better to burn out or fade away, but the final day of NXNE certainly does the latter. But that doesn't mean that I won't be back next year.