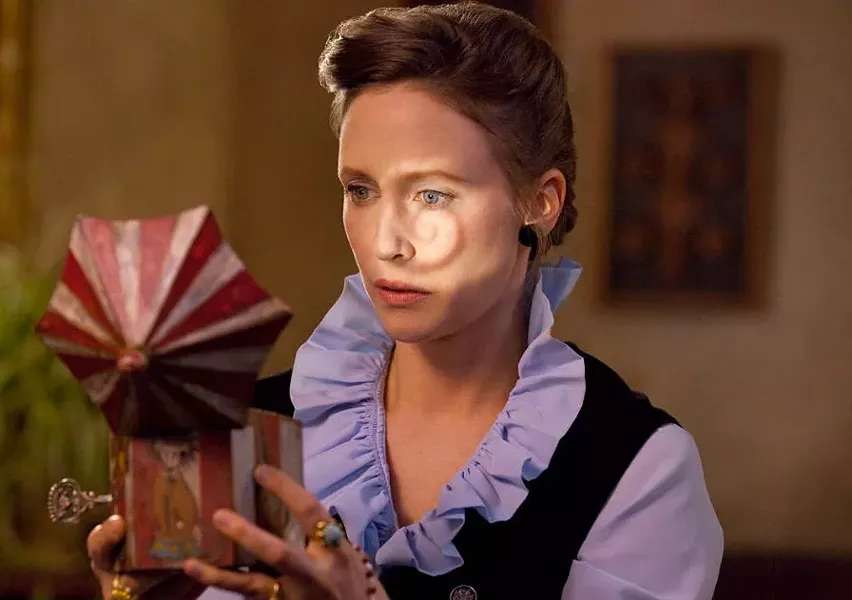 In The Conjuring Vera Famiga plays original ghostbuster Lorraine Warren.
A creepy doll is auxiliary to the plot, but man, is it ever a freaky part of
The Conjuring
. The non-doll story is thus: A couple and their five daughters move into an old, lakeside home they bought on the cheap. Guess what? Haunted. In desperate horror, they turn to acclaimed "demonologists" and paranormal investigators, Ed and Lorraine Warren (Patrick Wilson and Vera Farmiga). The remaining story sputters along and blends elements from director James Wan's previous
Insidious
with the entrenched 1970s haunted house boilerplate, mostly from the Warren's most famous case—
The Amityville Horror
. That isn't a bad thing. Wan is proving himself a master of skillful terror. His aptitude for tense editing is matched only by his creatively creepy ideas. While
The Conjuring
isn't anything new, with this skilled hand plucking the strings it is enjoyably terrifying.