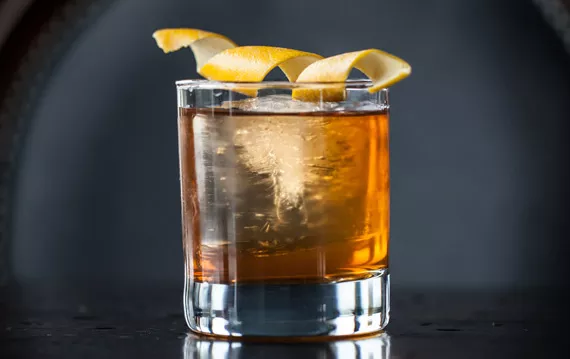 Ingredients
2 oz Mellow Corn 100 proof Kentucky whiskey
½ oz cinnamon syrup
¼ oz Fernet Branca
4 dashes Angostura bitters
orange zest
---
Method
Chill a mixing glass. Take a y-peeler and peel off a nice orange zest. Squeeze or muddle the zest in the mixing glass with cinnamon syrup. Add the Fernet Branca, Mellow Corn whiskey and four dashes of Angostura. Fill mixing glass with ice and stir until all of the ingredients meld together and the ice dilutes—approximately 50 stirs.
Use a julep strainer to strain the Cornucopia into a rocks glass filled with ice. Take your y-peeler and peel over another orange zest. Zest the orange on top of your drink and rub it around the outside of your rocks glass. Drop in the zest and enjoy! A perfect winter Old Fashioned.
Bartender's notes
Cinnamon syrup is made by heating up 1:1 simple syrup (one part water to one part sugar), bring to a boil and reduce heat to low. Add in fresh cracked cinnamon sticks and steep for approximately 25 minutes, stirring often. Strain out the sticks and voila!
Mellow Corn is an awesome 80 percent corn-based whiskey. Anyone who loves bourbon will love this product. Available at Bishop's Cellar for $30!
Fernet Branca is a famous amaro from Italy. It is very herbaceous and bitter. A little bit will do you. Also available at Bishop's Cellar.