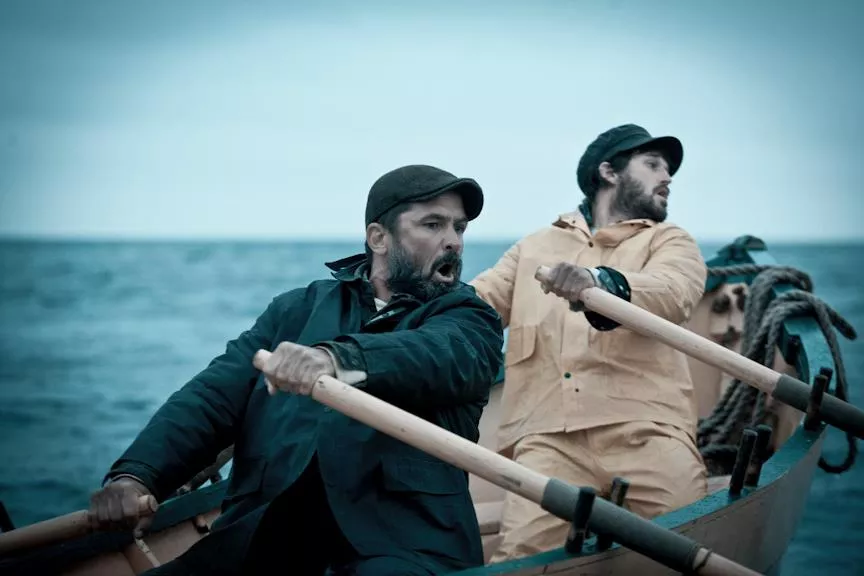 This is totally me when I row 400 metres at the gym.
Lost at sea. Everyone in Nova Scotia knows exactly what those words mean. We've seen lives changed by it and families left waiting, desperate for any hope of their loved ones' safe return.
The Disappeared is the story of six men lost at sea, stranded in two lifeboats and their attempt to get back to shore. The film looks at what happens in the aftermath of the ship sinking. Drifting along in two small lifeboats, these men see everything stripped away from them, until all that remains is the sea.
It's frightening to watch these men struggle to keep moving forward. Without any sign of help or land to speak of and the vastness of the ocean all around them is terrifying in its emptiness. A cheerful feel-good movie this is not, but it's a cathartic experience without parallel for a Maritime community.
Shandi Mitchell is an east coast native and the writer and director of this film. Currently rooted in Nova Scotia, the filming of The Disappeared took place in Lunenburg. Mitchell said she knew the movie could be filmed nowhere else. "I always knew we'd be shooting it out here," says Mitchell. "For me it had to be the sea. It was a very powerful experience to shoot it with people whose lives are the sea."
The film opens locally for the first time on Friday, April 19 at Empire Theatres Park Lane. If you didn't get a chance to see it at the Atlantic Film Festival, this is your chance.
The film has garnered much critical acclaim. It sold out for its Atlantic Film Festival and St. John's International Women's Film Festival showings. Since then The Disappeared has made a nine-stop tour across Canada and almost every film critic has praised the powerful themes of the movie.
Mitchell is looking forward to the theatrical release and seeing Halifax's response to a film that hits so close to home. "I think our stories are important, and this is our story. It's a story of the sea, it's an east coast story. I hope that they enter the ocean with us and they feel that we got something right with this telling of it."
After the screening on Friday, a Q&A session will take place, hosted by the First Weekend Club. Mitchell and actors Brian Downey, Gary Levert, Neil Matheson along with select members of the film's crew will field questions from the audience. A reception will follow at the Victory Arms Pub