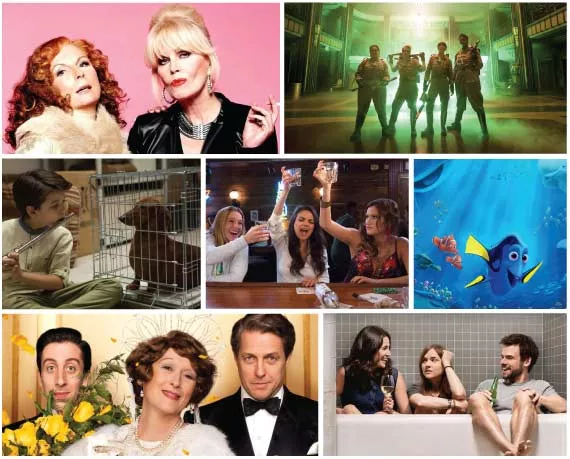 Streaming now (CRAVE)
Casual This sleeper dramatic comedy, now in its second season, stars the great Michaela Watkins as Valerie, an older divorced woman trying to navigate a drastically different dating world, and Tara Lynne Barr as her sex-positive teenage daughter.

---
Airing now (Lifetime)
UnREAL The eternally underappreciated Constance Zimmer teams up with Shiri Appleby for season two of this behind-the-scenes drama about a reality dating show. The difference being this inside-Hollywood job, unlike Zimmer's part as Jeremy Piven's insult dumpster in Entourage, gives her (and Appleby) a character with all dimensions to play.

---
June 17
Finding Dory By the time you read this you'll be able to find out for yourself whether lesbians are allowed to go to the aquarium in Pixar's America, but they're definitely allowed to voice a fish with short-term memory loss.

---
June 17 (Netflix)
Orange is the New Black Speaking of lesbians, Piper Chapman and co. return for what the trailer depicts as Dark Litchfield as the prison goes private. Will Alex be killed by that drug-dealer guy? We're betting not.

---
June 20 (Spark)
The Fosters Still speaking of lesbians, if you can keep your patience through the shenaniteens (shut UP, Brandon!), there's a terrific over-40 interracial gay couple in the form of Teri Polo and Sherri Saum holding down the centre.

---
June 23
The Bechdel Test Film Fest South House presents weekly screenings where the Bechdel Test will be applied, followed by "discussion about feminist film, representation of women, trans folks, non-binary and gender-non-conformist folks and femmes of all genders in both mainstream and independent media."
Art Bar, 1873 Granville Street, 6pm

---
June 24 (limited)
Wiener-Dog Leading actor of her generation Greta Gerwig resurrects Dawn Wiener, the character originated by Heather Matarazzo in Todd Solondz's 1995 film Welcome to the Dollhouse (though Wiener's funeral was shown in Palindromes). The cast also includes Julie Delpy, Zosia Mamet and Ellen Burstyn.

---
July 1
Our Kind of Traitor You won't find many films directed by women ever, but this is one of just two major American releases this whole season that is. Susanna White directs a thriller about the Russian mafia and the British secret service starring Ewan McGregor and Naomie Harris.

---
July 8
Mike and Dave Need Wedding Dates At first glance this looks like an even dumber knock-off of Wedding Crashers as Zac Efron and Adam DeVine look for dates for their sister's wedding, but joke's on them: The women (Aubrey Plaza and Anna Kendrick) are even worse people than they are. Twist!

---
July 15
Ghostbusters The real tragedy of this latest lazy reboot is not that the terrific cast has somehow gone back in time to menstruate all over your childhood, it's that it will make slimebuckets of money and the lesson Hollywood will take away from it is "America loves reboots!" instead of "I'd watch these women together in literally anything, including a lazy-ass reboot about ghost-fighting!"

---
July 22
Absolutely Fabulous: The Movie Patsy and Edina cause an international glamour incident and must flee to France. Rebel Wilson and Joan Collins (!!) are also along, and it's directed by Mandie Fletcher.

---
July 29
Bad Moms Just because you jam a bunch of women into a movie doesn't make it a feminist triumph—see He's Just Not That Into You—but Bad Moms' stacked cast might make this male-crafted material work, including Kathryn Hahn, Kristen Bell, Mila Kunis and Christina Applegate.

July 29
Equity After the shrill testosterone fests The Wolf of Wall Street and The Big Short you might think the only women on Wall Street were hostesses at cigar clubs, here comes Equity to suggest otherwise. Starring Breaking Bad punching bag Anna Gunn, it was directed by Meera Menon (a lady!) and written by Amy Fox (same!).

---
July 29
Princess Mononoke Part of the Outdoor Film Experience's HRM-wide slate of animation, this great Miyazaki film may begin with the journey of a boy named Ashitaka, but that's not his name in the title, is it.
Outdoor Film Experience, Halifax Central Library, free, dusk

---
August 12
Florence Foster Jenkins Three words: Meryl Streep sings.

---
August 13
Frozen When Frozen arrived for Christmas 2013, it seemed to be a buddy comedy about a snowman and his caribou. It's actually about two sisters fighting to be seen for who they are, and that true love's kiss has nothing to do with a man. (It made $400 million, ps.) Belt it out—this is the sing-along version.
Outdoor Film Experience, Pondside Amphitheatre, Hector Gate, Dartmouth, free, dusk