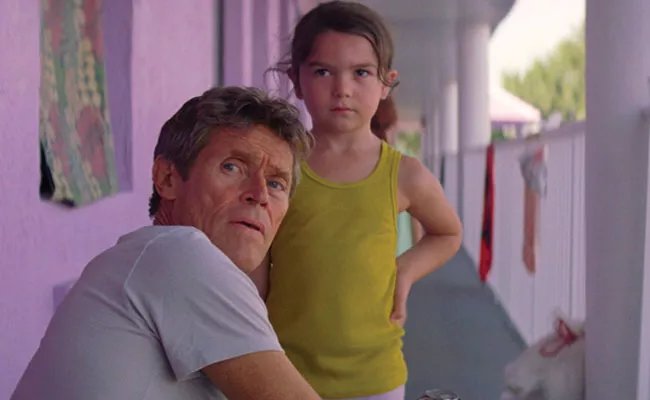 Willem Dafoe and the next great talent, Brooklynn Prince, in The Florida Project.
The Florida Project
Opens Friday, October 27
Cineplex Cinemas Park Lane 5657 Spring Garden Road
"I've been very influenced and inspired by The Little Rascals," says Sean Baker. "And that's no joke—in every one of my films is a link to The Little Rascals."
The writer-director is on the phone between sold-out screenings at The New York Film Festival, and he sounds weary and disoriented, as one would while ping-ponging around the festival circuit with a buzz film. The Florida Project stars Willem Dafoe as Bobby, who runs a welfare motel on the outskirts of Orlando, literally in the shadow of Disney World. The film follows Moonee, played by an astonishing seven-year-old actor named Brooklynn Prince, and her young friends. It's a wonderful rumination on the innocence and joy of childhood, even against stark circumstances.
"If you think about what The Little Rascals were—they were these comic shorts set against The Great Depression," says Baker, whose Tangerine, about two sex workers seeking revenge on a pimp on Christmas Eve in LA, topped many critics' lists last year. "If you think about it, most of the kids in The Little Rascals were living in poverty, but that wasn't the focus. The focus was the humour, the adventures, what makes childhood universal. I always wanted to do that."
It's always a gamble to hang any film—and especially such a sensitive one—on a child, but Baker got lucky with Prince. "Brooklynn is one of the best actors I've ever worked with, at any age," he says. "She's a born thespian, she's like a Mickey Rooney, like a Jodie Foster. I've never seen somebody who has such an incredible love for what she does. She didn't want to go home at the end of the day."