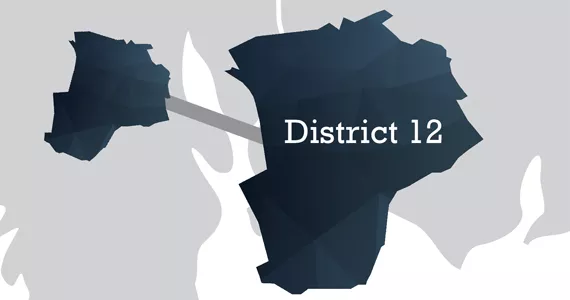 AKIRA ARRUDA
Clayton Park and its surrounding suburban areas make up the most populated parts of District 12, bordering the sprawling BLIP (Bayers Lake Industrial Park), vast wilderness lands near Blue Mountain-Birch Cove and the historic African-Nova Scotian communities in Beechville. Click here for HRM's boundary description.
The last of four open races this election—thanks to Reg Rankin's decision not to re-offer. The battle for District 12 builds off of Otter Lake and Blue Mountain-Birch Cove Lakes, which on their own were two of the biggest decisions council voted on during the past year. Residents in these communities will be wanting reassurances that HRM will keep its promises, while looking ahead to new challenges.
Eligible voters: 19,822 (as of 2014)
(Up by about a thousand from 2012)

Past voter turnout: 34.90 percent
The Candidates
Six candidates are battling it out to replace the outgoing Reg Rankin on Regional Council, though only two actually live in District 12. Former Canadian Forces member Scott Guthrie, paramedic John Bignell, former Liberal MLA Bruce Holland and 2012 council candidate Bruce E. Smith all have homes in other districts. In Guthrie's case at least, that's the result of the boundary re-jiggering in 2012. All of the candidates have strong ties to the communities of Timberlea—Beechville—Clayton Park—Wedgewood, so it remains to be seen if the residency question makes on impact on votes, but justice department administrative assistance Iona Stoddard is certainly making it a part of her campaign. News 95.7 meteorologist Richard Zurawski—the only other candidate save Stoddard to live in District 12—is instead focusing his campaign warning about the oncoming effects of climate change.
The Issues
For years the biggest concern in District 12 was the future of the Otter Lake Landfill. Depending on who you ask, that file's now either closed or still diligently needs to be defended. Last winter council voted against increasing the landfill's cell heights, extending its life and saving the city millions. But that decision was controversially enacted into provincial legislation by Rankin's son, MLA Iain Rankin, tying council's hands should the landfill reach its max height early. Meanwhile, the municipality has finally committed itself to purchasing lands from Annapolis Developments to create the Blue Mountain-Birch Cove Wilderness Park after a decade of promises. It's far from a done deal, however, since prices and terms still need to be negotiated. All of which is to say, the next councillor in District 12 should do their research now on the complicated files they're about to be handed.
Click here to find out more info on how, where and when you can vote in HRM's municipal election.