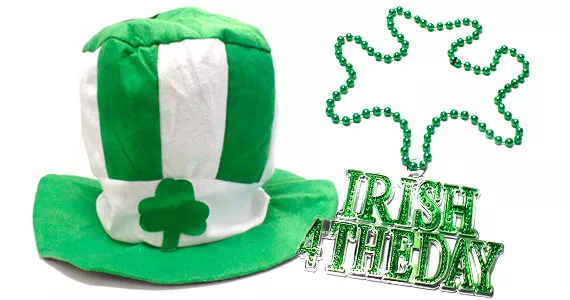 Tom Dobbyne just bought himself a green bowler hat. Now he's on the hunt for a green suit to match. Actually, any old suit will do. He says he can "go to Value Village, and just spray paint a suit green."
After all, if you are going to start St. Patrick's Day with breakfast and a beer and continue on until you eventually pass out, you might as well give it 110 percent. And by the time the paint starts to run off his suit, Dobbyne says he will be so drunk he won't care.
Dobbyne, a student at Dalhousie, says it's "the only day of the year where I can get absolutely drunk" by 10am and no one will judge him for it. He may be right. He certainly won't be alone.
Throngs of people, both here and around the world, take celebrating the Irish holiday very seriously. People will take the day off from work or skip classes to spend the entire day partying. And with March 17 falling on Saturday this year, you can bet downtown Halifax is going to be especially green.
Last year, Dobbyne had the St. Patty's foresight to pick his class schedule---months in advance---so he only had one morning lecture to attend prior to having his first beer of the day. Naturally he's put thought into this year's school-free party plans. He says this year he will start the day off with a "shower beer"---having a cold beer in a hot shower. After that, he will head to his local pub for breakfast and more beer.
By the time Dobbyne is enjoying his shower beer, Peter Hickey will already be enjoying his traditional "meal replacement" pint of Guinness at one of the downtown Irish pubs that start serving as early as 8am.
For Hickey, pub-crawling is the best part of St. Patrick's Day. But he likes to keep things fresh. While others are thinking about what they'll wear, he plans where he's going to drink.
He says that this year he is going to try to hit up The Economy Shoe Shop and The Seahorse Tavern, simply because he has yet to celebrate a St. Patrick's Day in either bar.
Hickey, who is of Irish decent, will be proudly showing off his family's tartan by wearing his kilt---as he does every year. And, he adds, he wears it "properly," a feature that becomes more popular for people to verify as the all-day drinking progresses.
Dobbyne calls St. Patty's "the friendliest day of the year. You can meet people in the first bar you go to and by the end of the day you're best friends."
It is the only day of the year where the community gets together to have fun and party, says Dobbyne. "You get to throw on an Irish accent. You get to wear green. You get to be drunk and everyone is drunk with you."
Despite a high potential for some serious debauchery, neither Dobbyne nor Hickey can recall any serious issues from previous years. "I know it happens," said Hickey, "but I've never seen it. It's just a big, fun party."
His only note of caution is to "just make sure you don't drink too much green beer. It'll make the next day more colourful then it needs to be."