The Getty Centre is like Valhalla over Century City
To go to
The Getty Centre
is to feel somehow ascended.
It is huge—five main buildings. It is high—in the foothills of the Santa Monica Mountains. It looks down on Los Angeles. And yet, for all its grandness, it is made for people; built on a human scale. Its basic unit is a square thirty inches to a side. It makes great sense as a place.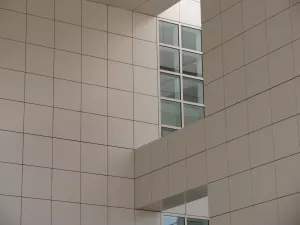 The thirty inch square in a wall and window of the Getty
In 1983 the J. Paul Getty Trust bought 750 acres off Highway 405. Richard Meier, who had already won the Pritzker Prize in 1984, was chosen to design the center and it opened in 1997.
You arrive, park* below and take a five-minute quiet ride in a white tram up the hill to a large open plaza with trees and on the far side, tables. The stairs that go up to the entrance have very short risers, so you step easily.
Up top it is like a campus, and staff there call it a campus—besides the five main buildings there are pools and gardens (the terrific main one deigned by Robert Irwin) and everywhere Meier has framed spaces and views.
Docent Norma Landau explains the building block of the Getty
If you take the 45 minute Architecture Tour, you might meet Norma Landau, who has been at the museum since the day it opened. She explains to a small group about the travertine cladding—brought from the Bagni di Tivoli quarry near Rome, the same quarry which gave stone for the Vatican, for the Colosseum. She mentions that Meier would have clad the entire place in bright white but a city committee vetoed that (it's mostly off-white, a pale mushroom). And Landau points out the basic unit of this gigantic place: the thirty-inch square. It's in travertine, and the modern aluminum which contrasts so well with the ancient stone. It's in the windows, the small and the large, which are sized in multiples of thirty.
Inside the five buildings: a terrific museum, research and conservation institutes and Getty offices, plus the museum—with a huge collection of paintings, drawings, photographs, decorative arts and sculpture, mostly pre-20th century. Many fantastic things, yes—but the architecture itself is one of them.
*Admission is free; parking is $15. The 761 bus goes there.