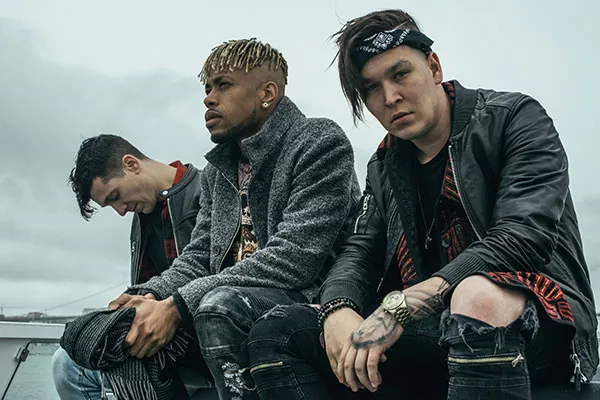 Neon Dreams w/Jodi Guthro,
Mitchell Bailey
Friday, October 12, 9pm
The Marquee Club, 2037 Gottingen Street
$20 adv/$25 door
sonicconcerts.com

Neon Dreams is so committed to its social media game that someone follows the trio around solely for content creation. So it's a bit perplexing to visit @neondreams right now—the Instagram account is down to just 15 posts (at press time) and the profile picture features only singer Frank Kadillac.
"Frank has this really unique personality and he hasn't had his full opportunity to showcase that stuff," says drummer Adrian Morris, a couple weeks ahead of Friday's hometown show. "There's a whole lot going on with Frank right now, with his writing and aesthetically. This track is very raw frank and we felt this is a good time to really show him."
The track in question is "Guilty," a mid-tempo jam on which Kadillac laments "wish I didn't want it/I don't want to stop it/I'm just being honest/to soothe my guilty conscience."
Kadillac is also featured on Ria Mae's new single "Hold Me"—you may have caught its live performance during the atlantic International Film Festival last month—and it seems likely the duet will occur live nightly when Neon Dreams joins Mae for her cross-country tour in November.
It's their first big opening slot since exiting Hedley's arena tour in March after singer Jacob Hoggard was accused of sexual assault by multiple women. "Immediately in the band we said 'We need to leave this tour,'" says Morris, adding that the situation had a silver lining in the end.
"We'd just come off a 20-date US tour, and then the next day were supposed to start that tour," he says. "That us tour was wild—one minute we're driving to Phoenix, then flying to New York. It was so hard to focus on music and writing with how much touring we were doing. It was a good opportunity to get some focus on the music coming out."