The Grateful Dead Movie Event
Rated R (MPAA) 150 min. 2011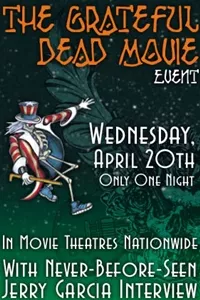 Don't miss your chance to see a flashback concert experience with the Grateful Dead on the big screen. Fathom and Rhino Entertainment present "The Grateful Dead Movie" in movie theaters nationwide for a one night event on Wednesday, April 20, at 7:30 p.m. (local time). This special event will include exclusive never-before-seen interviews with Jerry Garcia and Bob Weir conducted during the filming of this legendary production over 35 years ago. "The Grateful Dead Movie" has not been available in wide theatrical distribution since its initial release in 1977. Some content may not be suitable for younger audiences.
Show Times
Sorry there are no upcoming showtimes for The Grateful Dead Movie Event
xxx - Deprecated in favor of GTM, above.