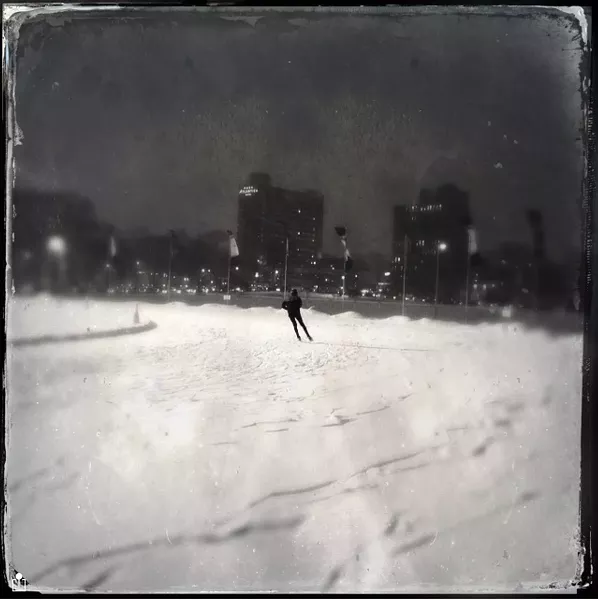 The Oval, 5775 Cogswell Street, 902-490-2347
You're not alone if you're counting down the minutes until Oval-time. Are we there yet? Not quite. The first skate of the year is weather dependent but currently pencilled in for December 15. Stalk halifax.ca/skatehrm and @skatehrm for the latest on Halifax's backyard rink.
Scotiabank Centre, 1800 Brunswick Street, 902-421-8000
Make a free skate part of your lunchtime routine. From noon to 12:50pm Mondays, Wednesdays and Fridays—always double-check online incase of special events—you can lace up and do laps.
Dartmouth Sportsplex, 110 Wyse Road, 902-464-2600
Through December you can skate five days a week at the Sportsplex— Sundays 3:30-4:45pm, Mondays 9:15-10:15am (adults) and 10:15-11:25am (open), Wednedsays 10:14-11:45am, Thursdays 11:45am-1:15pm, with a few Fridays and Tuesdays for good measure. Helmets are required for kids under 12, and recommended for the rest of us. allDo due diligence and check times at dartmouthsportsplex.com.
Halifax Forum, 2901 Windsor Street, 902-490-4614

Free Skate Fridays welcome adults to carve it up from 12-1:30pm, but Monday through Thursday a cool $2.75 gets you ice access from 12-:120pm (specific dates are listed at halifaxforum.ca/publicskates).
BMO Centre, 61 Gary Martin Drive, 902-835-5454 ext 1
Buckle up your helmets if you're paying Bedford's BMO Centre a visit—you need one if you're stepping onto this ice. Enjoy public skates Wednesdays from 4-4:50pm and Sundays from 4:30-5:20pm. Family skates, better suited for kids under 10, take place Mondays, Wednesdays and Fridays 3:15-4:05pm, and Sundays at 4:30pm.
Bowles Arena, 15 Ragus Road, 902-490-6100
Adults skate for free Tuesdays and Fridays from 10am-12pm (except on Christmas and New Year's Day), and families on Sundays from 1-2:50pm. If your family includes a person under 12, make sure you pack a helmet.
Sackville Sports Stadium, 409 Glendale Drive, 902-869-4141
For $3 you can enjoy open ice on the daily in Sackville, but times are different depending on the day of the week, so it's best to check thestadium.ca before bundling up.
Devonshire Arena, 3395 Devonshire Avenue, 902-490-4633
North enders looking to skate can hit up a free 50 minutes of ice time on Wednesdays at 4pm (except December 23 and 30).
Cole Harbour Place, 51 Forest Hills Parkway, 902-464-5100
Helmets are a must for skaters of all ages at Cole Harbour Place. Adults get the ice to themselves Mondays, Wednesdays and Thursdays from 9-10am, and open public skates take place 2:30-4pm on Saturdays. This schedule changes from time to time, so peep coleharbourplace.com.
Gray Arena, 15 Monique Ave, 902-490-4551
Adult "fitness" skates are free and take place Monday, Wednesday and Friday from 10-11:50am, but if you're feeling a slower pace instead check out the free family public skate, Sundays at 4pm.