The King and the Commissioner
Rated NR 195 min. 2012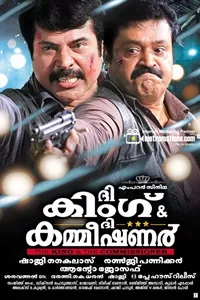 The King and The Commissioner is a political thriller film written by Renji Panicker and directed by Shaji Kailas, starring Mammootty and Suresh Gopi in lead roles. The movie planned as a sequel to the super hits 'The King' and 'The Commissioner' both films directed Shaji Kailas and scripted by Renji Panikakr. They planned to lead characters of both the films for a single flick. However, director Shaji Kailas reportedly said that the film features a new story in a new background where the lead characters of his and Renji Panicker's films (Joseph Alex IAS & Bharath Chandran IPS) are coming together. Mammootty and Suresh Gopi are reprising their roles Joseph Alex IAS and Bharath Chandran IPS respectively. Rahul Raj is scoring music for this movie.
Film Credits
Director: Shaji Kailas
Cast: Mammootty, Suresh Gopi and Samvritha Sunil
Show Times
Sorry there are no upcoming showtimes for The King and the Commissioner
xxx - Deprecated in favor of GTM, above.