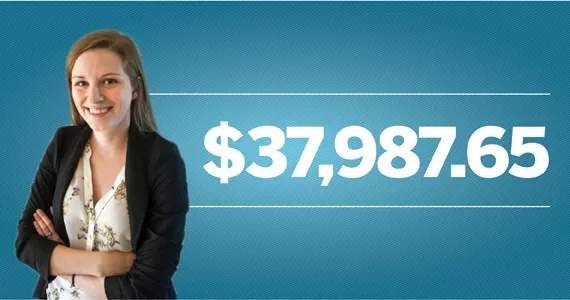 What made you focus on getting out of debt as quickly as possible?
There was actually a single event that made me realize I had no clue what I was doing with money. I got in an accident in July 2011 and totaled my car, and I had just graduated from school and I had no savings. I didn't have any financial cushioning to help me through, and before you can have real savings, you have to pay off your debt.
What was your first step?
I started researching about how much I should pay for a new car, and realized I couldn't afford a car payment and a student loan payment and my place in Halifax. So the first thing I did was move back to my hometown, my husband and I. [They've since moved back to Halifax.] We got on a strict budget and I started funneling as much money as I could towards debt.
What was the hardest part of staying focused?
It was really challenging when nobody around me seemed to be putting that kind of effort into their finances. To see my friends spending with abandon and me not doing that sometimes made it feel arbitrary. To combat that I found the online personal finance world, where everybody was like me and that was helpful.
After becoming debt-free, how'd you ensure you stayed that way?
I sort of liken paying off debt as climbing up out of a hole. Once you're debt-free you're out, but you're on the edge so it's easy to accidentally fall back in. My goal was to take as many steps back as possible. The first thing I did was build up some emergency savings. No matter what I'll have that cushion there, and I can access it instead of credit. Also, I don't just spend money, I know exactly where it's all going. I use mint.com for that—it's really easy tracking software. So any given month I can see how much I spend on my pets, and that corresponds with my budget. So I can spend $60 on my pets, and once that money's gone...it's gone.
Follow Jordann's finances at my-alternate-life.com.