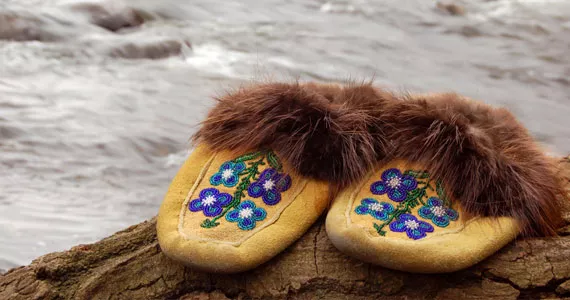 Walking With Our Sisters January 14-February 1 Mount Saint Vincent University Art Gallery 166 Bedford Highway
More than 1,000 unfinished moccasins are making the long walk to Halifax to commemorate missing and murdered Indigenous women in Canada.
The commemorative art project Walking With Our Sisters will make one stop in Halifax (Kji'puktuk in the Mi'kmaq language), the only place it will tour in historic Mi'kmaq territory. The exhibit will be held in the Mount Saint Vincent University Art Gallery.
The exhibit began its tour in 2013, and has stopped in more than a dozen Canadian communities since. The tour has bookings all the way into 2019.
The moccasins, or more accurately their decorative tops, are left unfinished to represent the more than 1,000 Indigenous women whose lives have been cut short. The moccasin tops, called vamps, were beaded by people who empathized with the issue. 108 vamps also represent the lives of children. They originated from as close to here in Halifax, to as far away as Australia and Hawaii.
WWOS's website acknowledges that the exhibition is only scratching the surface—current statistics on missing or murdered Indigenous women doesn't include trans or two-spirit people not legally listed as women, deaths ruled accidental, unreported cases, cases outside RCMP jurisdiction, and cases which are more than 30 years old.
The exhibit features not just women and children, but Indigenous people who have experienced violence in the two-spirit community and the families of victims. Two-spirit identity is a culturally specific third gender present in many pre-Columbian cultures often lumped into the trans community in contemporary discourse around gender and sexuality. Like the trans community, two-spirit people face increased rates of violence and sexual assault.
The exhibit's home at the Mount is an ironic reconciliation—the Sisters of Charity who founded the school were instrumental in developing the residential school system which contributed to the cultural genocide of the Mi'kmaq. Now it's the only place in Nova Scotia that the memorial exhibition will visit.
Walking With Our Sisters is presented in partnership with the Native Youth Sexual Health Network, an international organization advocating for reproductive rights for Indigenous youth, and the Helen Betty Osborne Foundation, which provides scholarships to Indigenous post-secondary students in Manitoba.