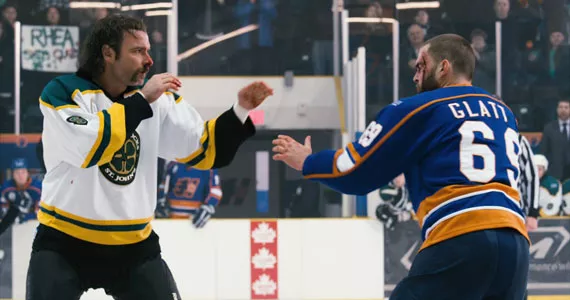 Remember Goon? About a minor-league hockey team from Halifax with a hard-hitting enforcer? It's been three years since the movie played for audiences around the country and the world, but what Haligonians may recall is that the movie wasn't filmed in Halifax, but rather as far away from the ocean as you can get: the plains of Manitoba.
But why shoot in the Prairies? It could be because the province boasts the highest tax credit in the country, with a base rate of 45 percent, plus add-ons–including a Frequent Filming Bonus, a Manitoba Producer Bonus and the Rural and Northern Bonus–companies can claim up to 65 percent (what Nova Scotia used to offer).
Proposed changes to the film tax credit have placed the Nova Scotian government in the public eye. With plans in the recent budget to reduce the tax credit to 25 percent, many in the province fear this will be detrimental for those in the business. David Regan, executive vice-president of DHX Media, has already said DHX will relocate if the credit is cut.
Meanwhile in Manitoba, folks like Rob Macklin, branch rep for the Alliance of Canadian Cinema, Television and Radio Artists, say given the size of the province—a population of 1.3 million compared to 940,000 here—the tax credit has definitely provided a boost: "It's certainly stabilized the industry here."
Nicole Matiation, executive director of On Screen Manitoba, says the province can also attract foreign distributors who want to take advantage of the tax credit, and finds the partnerships between local producers and distributors to be a much more collaborative effort because Winnipeg is a much smaller centre.
Plus, the money keeps flowing. In its annual report for 2013/2014, Manitoba Film & Music reported a total of 119 tax credit applications received for the fiscal year, representing a projected $137 million in production activity.
On average, Matiation says $108 million in production volume is generated every year, and helps to keep 1,300 people employed. "It's a proven production incentive that has really built the Manitoba film industry."
Aqqalu Meekis, a Winnipeg actor, says the idea of cutting the tax credit is "backwards logic"—it's why he has a job in the first place. Without an incentive to invest in a local crew, he fears for Manitoba's economy. "Film companies just aren't going to go there."
Nova Scotia may soon follow suit with other provinces like Saskatchewan, which eliminated its credit but now offers a grant, or New Brunswick, which got rid of its credit but came back later with an alternative funding scheme. But with the public actively voicing its opposition to this year's budget, the province may still get its time in the spotlight.