ASHLEY CORBETT
After just a few hours on shore, the seafarers head back to work.
On a sunny Saturday on the waterfront, hundreds of people follow their local foodie instincts to the Seaport market. A short walk down the road, nestled quietly amongst the port infrastructure, a different crowd is gathering inside a small white bungalow to celebrate the International Day of the Seafarer.
A handful of retired seafarers and their families enjoy a home-cooked meal on a set of couches and fold-up TV trays. Across the hall, a group of five Filipino men huddle for an internet connection, sporting ear buds and speaking to iPod touches.
It isn't that they're oblivious to the festivities—they just don't have a lot of time.
Today, they have arrived after a three-day trip from Montreal, and they'll soon be at sea again for eight days until reaching Germany. These men will return to Halifax countless times on future trips, but it's likely none of them will see anything other than the port.
"I hear you have a beautiful city here," says Jireh MaCarana, a seafarer who's been to Halifax many times. He's been following the family business for about three years now; his father was also a seafarer.
Typically seafarers work nine-month contracts. The short hours they get for visiting foreign ports are some of the only time they have to themselves. Time taken to simply rest is limited, because the majority of this break is spent checking in with families over Skype or email.
"They really all do it for their families," says Maggie Whittingham-Lamont, who's been working at the mission for 25 years.
Mission to Seafarers is a national non-profit Anglican charity that offers sailors support and basic amenities like wifi and a space for brief relaxation off merchant navy ships.
Whittingham-Lamont welcomes groups (predominantly men) onto Halifax's shore up to three times daily, but says Nova Scotians aren't fully aware of the seafarer community in their own city—of the loneliness, dangers and isolation these workers who spend time on our shores face.
"You're absolutely and totally dependent on seafarers," she says, reflecting on the how HRM's land-dwellers benefit from the fruits of their cargo delivery. Whittingham-Lamont is originally from the United Kingdom, and was working as a nurse when she came to Canada. Her husband was a seafarer, and she originally intended to volunteer at the organization as a one-time occurrence. But her heart became devoted to the cause pretty quickly.
When she started, the seafarers who came to the mission were approximately 90 percent Filipino. Now it's a mix that she estimates at 70 percent Filipino, as well as many Eastern European, Indian, Sri Lankan and East African sailors.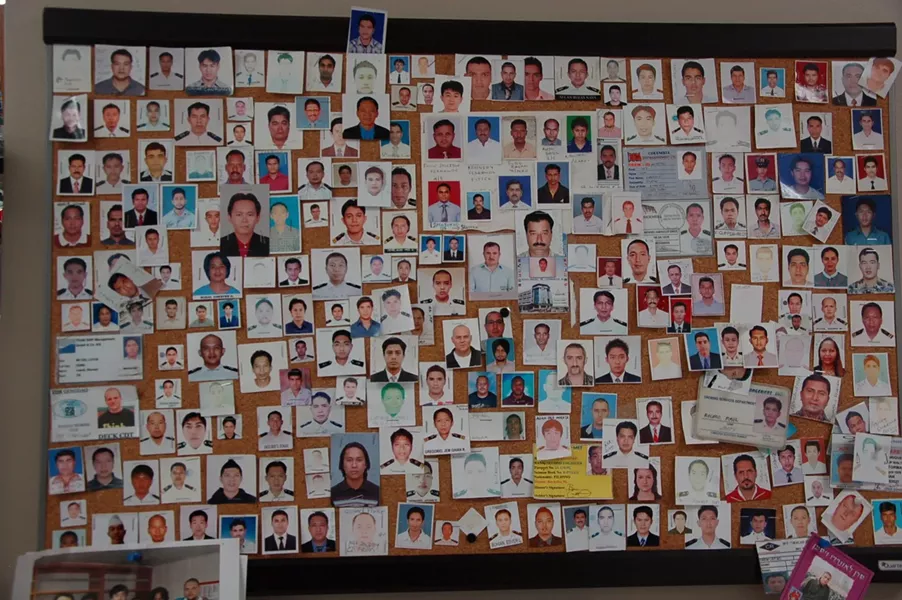 ASHLEY CORBETT
Some of the seafarers who've visited Halifax over the years, preserved as photos on this wall inside the mission.
Today inside the mission, every minute is precious to the seafarers. They say goodbye to their families to allow enough time to eat. They join their allies and supporters in the next room, savouring some authentic Filipino noodles.
As their break on shore comes to an end, Whittingham-Lamont hustles the five sailors into a van for a lift back to their cargo ship.
It's a few minute's drive to the boat, and soon the men are piling out preparing to go back to work. Colourful cargo crates tower over them as they climb the stairs and wave goodbye to Halifax, knowing they'll be back soon.