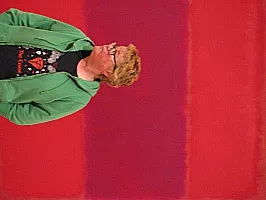 Mark Rothko's "No. 301, 1959"
Oh,
The Museum of Contemporary Art
. It's on Grand Street in downtown LA, where lots of people don't seem to go, but should. It's 30 years old and to celebrate, has a
huge,
exhausting show.
A room of Rothkos. Several Pollocks, including the magnificent "Number 1, 1949". Judds, Flavins, Chamberlin (the three Muskateers of Marfa, pretty much). A room of Robert Irwins. Several works by Agnes Martin (born in Saskatchewan, and represented very nicely at the Dia:Beacon Museum).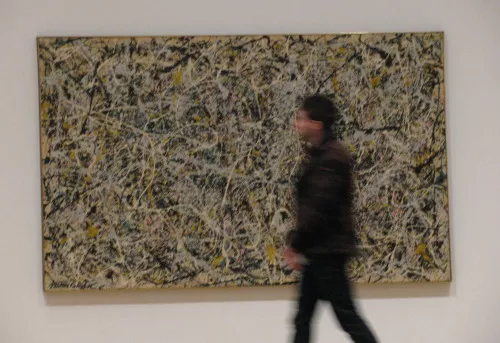 Jackson Pollock's "Number 1, 1949"
For photographs, a room of Diane Arbus and a room of Nan Goldin among others. Too much for one visit. We were there on a Thursday evening, when it's free, and when we left, Frank Gehry's Disney Hall was there, next door, in the night like a ship from some finer planet.
Frank Gehry's Disney Concert Hall