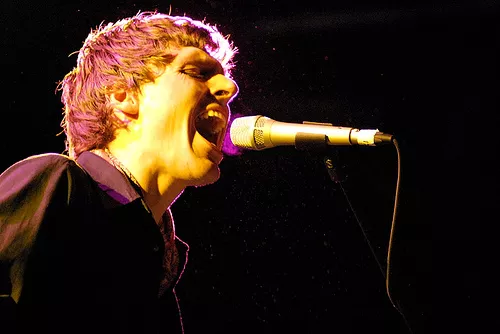 Last night kicked off the slew of great, and may I add free, Canada Games concerts. I've seen my share of Grand Parade shows, but hadn't been to one since I think the Junos, where I was likely also sardined to see Joel.
And last night, sardined we were once again, which is great. Thousands showed up, sang along and bobbed in unison. Downtown was spirited and it was really lovely to see so many people on the streets. Mayor Kelly did his usual candy hand-out, there was free cider, Darrell Dexter showed of his "singing" chops and even though it was very clearly a family event, pot smoked still clouded the air.
However,the layout of Celebration Square was weird. This was my first time seeing a show with the stage against City Hall, rather than against St. Paul's. That probably doesn't really make a difference. But as predicted , the Fallen Officers monument definitely did. Now, if you were lucky enough to be clustered in front of it, I'm sure the view was spectacular. However the tardier folk like myself weren't as lucky ( damn that slice of pizza for being so tasty). People found ways around it though, filling the sidewalk and huddling on the snowy side-banks, flocking to the south side of the Square and even filling up the arc itself. It was a huge barrier, and very annoying, but not the end of the world.
But concerts are really all about the music, right? Singing and dancing was in full force and as usual Joel was spot on. I guess we already know what he looks like anyway. The atmosphere was definitely there, the spirit too, the view...not so much.
To check out other free concerts in Celebration Square see our Canada Games listings.
Send us your Canada Games pics and vids; email ourgames@thecoast.ca.