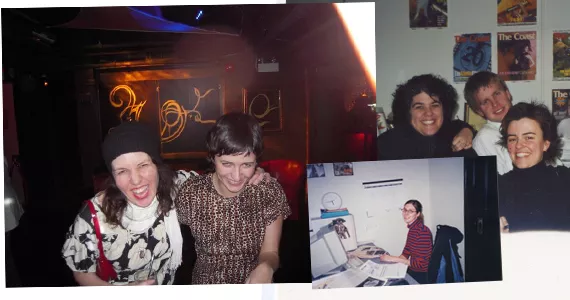 L-R: Sue Carter Flinn, Alison Lang, Stephanie Domet, Devin Slater, Lezlie Lowe, Carla Gillis
Hannah Thomson
photographer 1995-99
I shot my first cover for The Coast in 1995. And then worked steadily for the next four years. But before I started, I was fresh out of school and I had no idea what I was going to do with my life career-wise. I was feeling lost and waiting tables. I did know that I adored photography and loved to document things. One day I ran into an old acquaintance who worked at The Coast, and after I explained I had studied photography, I was encouraged to take photos for the paper. That's when everything in my life changed.
Working for The Coast opened up an entire world of opportunity for me. I loved all of the assignments: musicians, writers, activists, artists, filmmakers, politicians, actors. It was amazing, the things we were able to pull of with limited resources. I have fond memories of shooting Cathy Jones in my bedroom (she was barefoot and stepped on a nail), Daniel MacIvor in my bathtub, Stinkin' Rich on the rooftop of my mother's office building on Barrington, Thom Fitzgerald topless in a neighbour's garden, Helen Hill at home.
I now live in Brooklyn where I'm an editorial photographer. I love what I do and am always thankful that I've found a pathway in life which fills me with so much pleasure, challenge and passion. Today I still thank The Coast for my first assignment.
Hannah Thomson photographs for Vanity Fair and Vogue, among others.
---
Sue Carter Flinn
listings editor 2004-05
special issues editor 2005-2006
arts & deputy editor 2007-2011
Before I started working at The Coast, my impression of newspaper editors was that they were all sweaty guys with rumpled shirts and hammy fists (from banging on desks), who yelled a lot. Kyle Shaw, so dapper in his "formal Friday" suits, shattered that conception. He taught me the best editors listen more than they use their voices, and prefer empathy to ego. They also like to take naps. In his obsessive quest for the perfect organizational system, Kyle once created a "hipster PDA," consisting of a stack of index cards held together with a bulldog clip. He made one for me, too. It lasted for about a week before it fell apart in my purse. That willingness to try something new is why The Coast is still such a force, and why I loved my seven years there.
Sue Carter Flinn is web editor at Quill & Quire and arts & ideas editor at This magazine.
---
Devin Slater
art director, 2000-03
Do I owe an entire career to The Coast? Indeed, I do.
As I entered that glorious boardroom on George Street over 10 years ago, The Coast took a chance on me. With an amateurish portfolio in-hand and a heart full of passion for design and media, I was hired. During my three years at The Coast, I learned many crucial skills: how to create a striking cover, how to direct a photoshoot, how to treat typography with respect, how to manage my time appropriately ("Under-promise, over-deliver!"). The list goes on.
The greatest thing The Coast gave me was a true love for the craft, the creativity and collaboration that is so essential in the creation of meaningful journalism. Words cannot express my gratitude.
Devin Slater is the art director at The Globe and Mail.
---
Mike Fleury
news editor, 2005-07
In 2003, The Coast applied to become a member of The Association of Alternative Newsmedia, a trade organization for media outlets across North America. When the AAN Admissions Committee released its recommendations, there was one line I've always remembered: "The Coast reeks of tender-loving care, with scads of little design and editorial touches that tell us these folks are in command of what they're doing." There were micro-examples in every issue: secret Happy Birthday wishes lurking in the masthead; miscellaneous overheard quotes snuck into the top of the news section; a serialized novel published along the bottom few centimetres of every page for over a year---all things that actually happened during my time with the paper.
There's a bigger point about what makes The Coast special: it cares about what happens in the margins. The best Coast stories are about bands and restaurants and sketch groups and drag queens and city council decisions and skate parks and entrepreneurs and ideas that might not otherwise get their due. It reflects a big, diverse, open-minded and ambitious city. It celebrates deserving heroes. It asks questions. It imagines how things could be better. It's the city's best self, distributed weekly.
Mike Fleury is an interview producer at George Stroumboulopoulos Tonight.
---
Carla Gillis
front desk enforcer 2000-2001
accounts receivable manager 2001-2003
I vividly remember my first day working at The Coast because on my walk up the front stairs of the old George Street building, a bird shat on my head. It was 100 percent mortifying, and I'd dressed nicely and everything. I cleaned myself up during the elevator ride and tried to convince myself it was good luck.
Turned out it was. Working for The Coast was the most fun I'd ever had at a job, especially once the bosses started letting me attend editorial meetings. I got to write about my family's love of Kenny Rogers. I got to interview Alfie Zappacosta in the office sauna. I got hate mail for my Lynyrd Skynyrd concert review. It was the best.
I also started appreciating Halifax. Every week the paper celebrated what HRM had to offer, which was the opposite of what I'd been doing all my young life: comparing my hometown unfavourably to New York City and Los Angeles. Through the articles and listings, I discovered all the cool stuff going on and people doing inspiring things.
Though I no longer live in Halifax, I see The Coast's influence on my life on a daily basis---in my appreciation for small business and indie culture and home-grown everything. (And, notably, I've never stopped working for urban weeklies.)
Cheers to The Coast on 20 years of awesome.
Carla Gillis is a music writer/editor at NOW Magazine and musician in the band Sister. She lives in Toronto.
---
Alison Lang
listings editor 2007-2009
columnist 2010-2011
When I first moved to Halifax after living in my parents' basement in Markham for a year, I would always read The Coast and look at all the column headshots and think about what a great paper it was and how cool it would be to write for it. The Coast was the first place where I learned of the term "drunkle" (the drunk uncle who takes over Thanksgiving dinners) and well, from that moment my life was inexorably changed.
The Coast also marked the first time that I had the chance to work directly with strong female writers, editors and personalities, and I remember that it really made me approach my own writing and ideas more thoughtfully. I continue to look to these people as examples of how I should be doing things.
Living in Toronto, the publications here can feel a little flimsy in comparison. They're not bolstered by any sort of community. I'm not sure if people in Halifax realize how lucky they are to have a paper like The Coast, because the paper's contributors and staff are the people that give it integrity. I learned so much from everyone I worked with.
I have no idea what I'm doing with my life now, but I honestly think working at The Coast prepared me for a bunch of stuff (in both the professional and personal realm) and in terms of the people I met, it is an experience I wouldn't trade for anything. Happy birthday dudes, you made it. You want a dinner roll with that?
Alison Lang lives in Toronto with former Coast sales rep Eric Duncan and their cat Beverage. She writes and edits stuff, falls off her bike a lot and eats tacos.