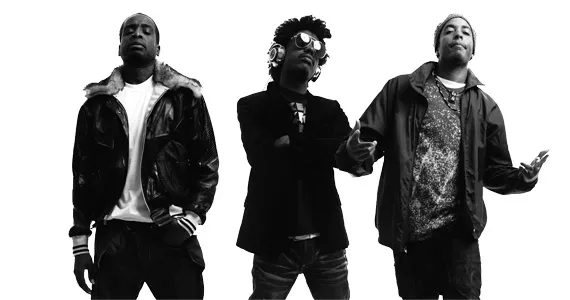 Like most music nerds who make a profession on music created by other people, I studied music in high school, particularly jazz guitar. At the time, I didn't really know any jazz musicians, or at least I thought I didn't. That was until I started running through songs from some of the greats that I realized I actually had heard the majority of them before. Whether it was a little drum beat here, four bars there, or Nina Simone's distinctive scream on "Sinnerman," I did know these songs, but not from listening to jazz.
That's because like a lot of people my age, I was first exposed to jazz through hip-hop (that voice on "Sinnerman" was sampled on "Get By" by Talib Kweli, who cancelled his festival appearance at the last minute). But Talib Kweli isn't the only one who became popular for getting his producers to use samples the foundation for their songs. In fact, when you look at any popular rap record of the past 20 years, chances are someone derived a part of the song from a jazz record. And when you begin to trace the road to the heart of where some of today's most memorable hip-hop beats came from--- fusing jazz with cunning wordplay---you usually end up at The Pharcyde.
Beginning in the early '90s in South Central Los Angeles, the group formed from the ashes of their childhood dance crew to create a fun-loving hip-hop act with a narrative bent. Made up of rappers Imani, Slimkid3, Fatlip and Bootie Brown, the performers first hooked up with a young producer named J-Swift to create their first album, Bizarre Ride II: The Pharcyde, and an instant collegiate party classic was born.
Although the group didn't initially gain strong commercial acclaim, The Pharcyde quickly amassed a following of young hip-hop fans and college kids drawn to their atmospheric beats---mostly collected from ancient jazz samples and soul hits---and oddball songwriting.
After rocking the college charts with "Passin' Me By"---one of the most memorable beats of its time due to its mixture of Quincy Jones and Eddie Russ---the crew went back to the studio to record its grand opus, Labcabincalifornia. The album climbed the charts and cemented the group's place in the growing alternative hip-hop scene with Souls of Mischief, The Roots and De La Soul.
Following the departure of Fatlip and Bootie Brown in the early aughts, the group coasted for the next few years, putting out a few LPs while focusing on solo albums and side projects. Notably, Bootie Brown recorded with Damon Albarn of Gorillaz, an act whose first album owed a great deal to The Pharcyde's jazz inflected beats.
The group rejoined fully in 2008 for the Rock the Bells festivals across North America, with three of its remaining members touring again in 2011, first playing at NXNE in Toronto and now Halifax.
Twenty years on, the band has gained popularity with fans in Kanye West, Drake and Shad, whose video for "Rose Garden" was a direct homage to the Spike Jonze-directed "Drop" from Labcabincalifornia.
With band member Slimkid3 recently releasing a new EP entitled Baby Don't Take the Fun earlier this year and a slew of artists indebted to their storied career, The Pharcyde has never been more relevant since their "humboldt beginnings" in 1991.