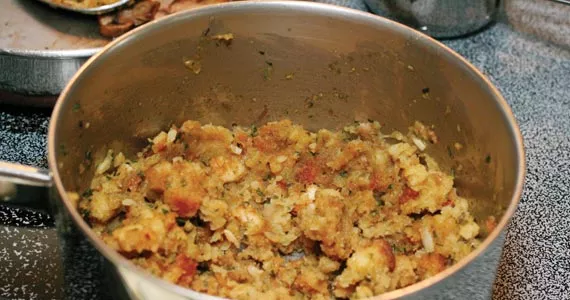 "To me, the quintessential Thanksgiving turkey stuffing is the one my mom makes," says Dan Vorstermans, "obviously."
Pretty much everybody's favourite stuffing is the one their mom makes, but Vorstermans---chef owner at the local-focused Field Guide, which will be opening in a few weeks---and a few other chefs in town have some other suggestions for this holiday favourite.
Vorstermans likes to be flexible in his approach to stuffing, using fall harvest flavours that will complement the full Thanksgiving spread. He stresses adding in some fat to keep the lean bird moist, and also urges you to open up the liquor cabinet to add some more depth to the flavour. "A little---or a lot---of booze never hurt anything in the kitchen," he says.
"Basically I'll take some onions and carrot, chopped up nice and tiny, and fry them in lots of butter and then deglaze the pan with some brandy, dry vermouth or a lighter beer, like Propeller Pale Ale," he says. "Reduce the alcohol a little bit, and remove from the heat. Mix this in with some ground pork and breadcrumbs. Then coarsely chop or tear up some sage, parsley, rosemary and thyme and add that in. Thanksgiving/Christmas-type spices work great with pork and turkey, so you can also add in some nutmeg, allspice or ginger.
"Keep it simple and use lots of great fall flavours," says Vorstermans. "Basically you can just go to the market and anything you see this time of year goes great with turkey so you can add in whatever you'd like to this recipe, as long as the flavours work together."
Chef Andrew Farrell from Two Doors Down is clearly a fan of homey classics. "My favourite stuffings are rich, fluffy, savoury, slightly sweet and begging for gravy," he says. "My go-to stuffing is my mom's classic: dried whole wheat bread, grated carrot, lots of finely cut green onion, summer savoury, diced onions and celery softened in lots of butter. You can't beat the flavour of cooking it in the turkey."
But Farrell also likes making some extra dressing outside of the bird, too. "Add a little turkey stock---made with turkey necks---and cover it with bacon or butter-basted turkey skin. It's delicious on its own but makes an incredible gravy sponge."
Chef Frédéric Tandy from Ratinaud French Cuisine likes to save the bread for inside of the turkey. "In France, day-old bread is rubbed with garlic and stuffed inside," he says. He also suggests you "use diced sausage, dried fruit, wild mushrooms and, for heaven's sake, fresh herbs!"
Tandy's partner at Ratinaud, Tom Crilley, thinks you should also consider stuffing other parts of the turkey. "Lightly sauté shallots---just to translucent---and then add in thyme, savoury and parsley. Let this mixture cool and then stuff it under the skin," he says. "Another great idea is to bone out the legs and stuff them as well!"
Chef Mark Gray, chef de cuisine at Brooklyn Warehouse, also likes to think outside of the Stove Top box. "We like to play around with different recipes," Gray says, but he also likes the classics. "Thyme, savory and rosemary are all great flavours, and are generally in something at the table every year."
This year, he suggests a bread pudding as a creative alternative. But whatever you do, on thing's for certain: you'll definitely be stuffed at the end.
---
Chef Mark Gray's Thyme Bread Pudding
6 four-by-six inch Ciabatta rolls
1.5 cups of milk
1.5 cups of cream (35 percent)
6 eggs, whole
1oz Thyme, chopped fine
1/4 pound of butter, unsalted
Salt & pepper

Preheat oven to 350. Cube ciabatta, pour milk and cream over top and let soak. Mix in eggs, butter, and thyme. Season to taste with salt and pepper.
Line hotel pan with parchment paper. Pour in mixture and smooth out on pan so it is level. Cover with aluminum foil and bake for 1.5 hours, or until skewer/toothpick comes out clean. Allow to cool, then portion into desired shapes/sizes.