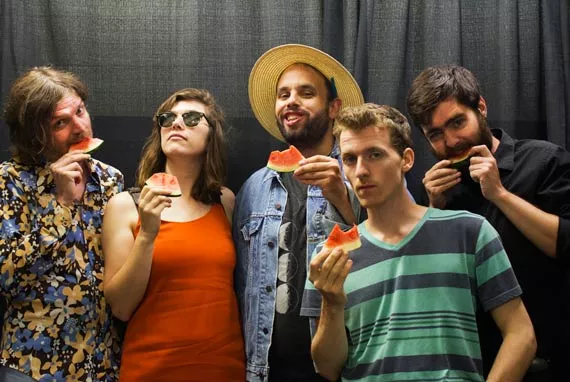 Back in 2008, In the Dead of Winter was the first festival that Mathias Kom played under his Burning Hell moniker. "In those first three or four years, The Burning Hell was primarily an outlet for songwriting," he says. "I didn't really expect that it was going to go anywhere in terms of touring."
Now, on the cusp of releasing The Burning Hell's seventh album, Public Library, this spring, the band—nicely settled into a five-piece lineup—returns to the festival with unbridled energy and years of international touring under its belt. Kom has developed a rapid, hyper-literate songwriting style he says is a combination of stream-of-consciousness ruminations and a tedious revision process.
"Public Library is kind of an extension of what we did on our last record, People," says Kom. "The songs are louder and the lyrics are more unapologetically dense than they have been before. I love story songs, and really this is an album about telling different stories. "
Take the song "Fuck the Government, I Love You," for example. The track, which appeared on last year's Don't Believe The Hyperreal (a duets album with Kom's partner Ariel Sharratt, who also performs in the band) and will also appear in a new form on Public Library, is a quietly epic romance filled with both details from Kom's own experience and a universal, fatalist sentiment.
The song ends with the lyric "and we started shouting because everyone else was shouting and isn't it fun to shout?" Fitting for a band known for its communal energy, and perhaps an indication of what to expect at The Bus Stop Theatre show on Friday.
---
The Burning Hell, The Weather Station, Gianna Lauren, Owen Meany's Batting Stance
Friday, January 22, 8pm
The Bus Stop Theatre, 2203 Gottingen Street
$12.65