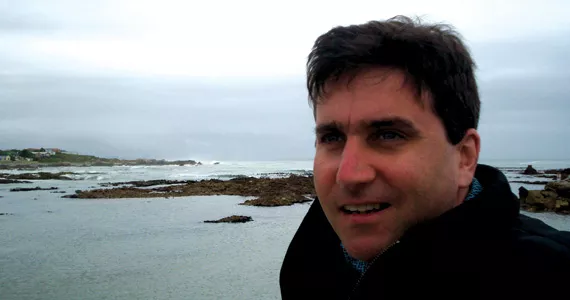 Andy Lamey shares the history of Guantanamo on April 12.
Guantanamo---it's a household name for most. We are well aware the US government uses this naval base on the eastern tip of Cuba to house "enemy combatants" from the War on Terror, including Canadian Omar Khadr. We know things happen in Guantanamo that might not normally happen on American soil, where the US constitution is, generally speaking, in force. But most of us assume Guantanamo's so-called rights-free properties were only put into use after 9/11, when the War on Terror was unleashed. Actually, Guantanamo has a much longer history as a rights-free zone. Journalist Andy Lamey (a co-founder of The Coast, no less) will share some of that history on April 12.
It's a gripping story, involving thousands of people in desperate circumstances fleeing persecution in Haiti; the morally and legally questionable practice of "interdiction"---the interception and return of those people to face possible persecution and "Team Haiti," a group of Yale law students who take up a legal and political battle to try to end the practice. The story is told in detail in Lamey's new book, Frontier Justice: The Global Refugee Crisis and What to Do About It.
"Some people have said the treatment of Haitian refugees 20 years ago was one of the reasons, maybe the primary reason, why Guantanamo featured again under Bush, the son," says Lamey. But it's not only the US government's questionable use of its naval base that should pique readers' concerns, it's that interdiction still goes on today and not strictly practiced by the United States. Australia, Canada and a growing number of countries turn away refugees without fair process. "And if anything should be illegal," says Lamey, "returning refugees to a place of persecution should be."
An overarching theme of Frontier Justice is Lamey's response to the ideas of political theorist Hannah Arendt. A WWII refugee herself, Arendt was highly suspicious of the idea of inalienable human rights and concluded that rights only existed for citizens of states. Refugees, being stateless, had no actual rights in the modern world.
"I'm much more of a believer in human rights than Arendt," says Lamey. As an antidote to Arendt's skepticism, Lamey believes that sovereign states can offer up a modicum of basic human rights even to the stateless refugee. He proposes a modest set of three rights that for citizens would seem banal, but that for refugees would mean significant improvements in security and survival.
"One, which we already have in Canada, is the right to an oral hearing," he says. Another, that "every refugee who makes an asylum claim should have a right to legal aid. In Canada about 80 percent of applicants are eligible for legal aid. I think it should be 100 percent. And, finally, there should be judicial review for detention decisions. A good starting point would be to really enforce these three rights for refugees at the constitutional level."
The constitutionality of these rights would be key. "When you're saying I want something to be enforced constitutionally, you're saying I think there should be limits on what politicians are allowed to do. That's not a crazy idea when we're talking about citizens," says Lamey. "But you know, refugees are human and they deserve a certain level of moral entitlements."