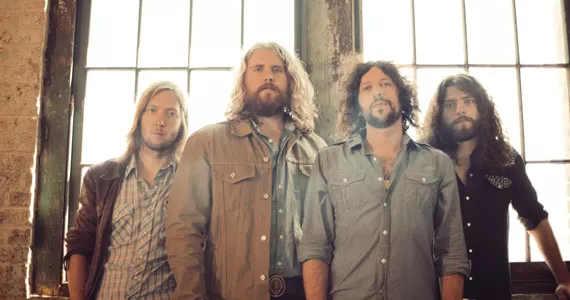 On a misty Wednesday night in March 2010, The Sheepdogs played to 10 people at the Seahorse, a venue whose capacity is 250. The scruffy Saskatoon natives, unfazed by the poor attendance, packed up to hit the road for their next stop in Boston. Nobody knew that within the next two years, they'd have a record deal, tour with Kings of Leon and have their self-recorded album certified gold in Canada.
Their beginning's a familiar story: touring tirelessly, hoping to somehow financially justify their continuation. Nevertheless, The Sheepdogs were unrelenting in honing their Southern, neo-psychedelic sound---a throwback to classic and boogie rock of the late '60s and '70s with swirling accents of soul. "We weren't in three other bands like some people. We focused on this," says singer Ewan Currie. "We went through a lot of tough times, but kept at it."
Things seemed bleak for the group, until they won an online contest in August to be the first unsigned act to grace the cover of Rolling Stone. Currie's wary of deeming it a lucky break.
"There's certainly luck involved, like meeting our now-manager and having him pass along our album so we'd be in this competition," he says. "But when it came time to do the competition stuff---recording songs, playing live and shooting videos---I don't think that was luck. That was hard work shining through."
But they weren't prepared for everything fame-related: Their win committed them to appear on Project Runway. They're polite in the episode, but it's clear that kind of gig's not their style.
"The shampoo product endorsement side of the whole thing was a little out of our comfort zone," admits Currie. He attests to their low-maintenance aesthetic, relating their beards to "a thinking man's machismo."
This month, the foursome is headlining a Canadian tour in which most stops are already sold out, including two at the Seahorse (where they'd like to openly invite Joel Plaskett to join them). With leagues of new-found fans and a new album in the works, these dogs are sitting pretty.