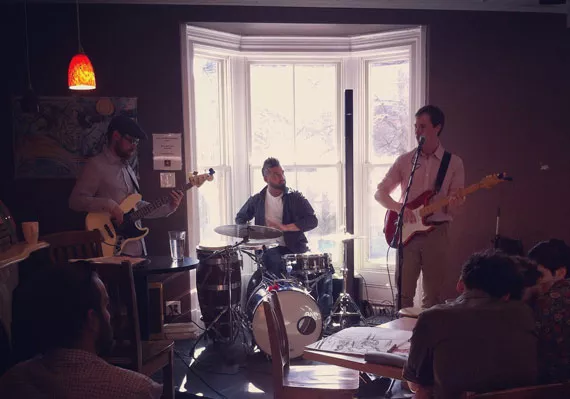 The Tomi Allen Trio at Just Us.
Halifax has a notoriously hard climate for all-ages music fans, and when music and art are your lifeline to mental health, finding a safe space with understanding people becomes crucial. The Spot, run by Youth Art Connection and Connections Halifax with space donated by the city, is a free program offered to local priority youth, and helps facilitate creative expression and a connection with their peers and the community while accessing mental health and addictions support.
Tomi Allen, a music facilitator with The Spot, has organized a live music and art series that also serves as a fundraiser to help this important cause. Shine On Sundays runs every Sunday at Just Us! on Spring Garden until the end of the month, and Allen hopes the series will be "a bridge between what goes on at The Spot and the community." Featuring performances from members of Gypsophilia, Samm Splash, Daniel MacNeil, Moe Kabbara and more, donations go towards supporting the centre and purchasing equipment.
"To get deep and impacting art, it unfortunately seems to come from intense emotional struggle. It can be easy to get lost in the struggle especially when you don't have a clue what's going on and the rest of society doesn't seem to understand. But if you can surround yourself with peers and mentors who can relate, it can turn that struggle into something profoundly soulful, creative and productive," says Allen. "This is why I like working with youth—they're immensely inspiring and talented, and they don't even know it! I'm certain that if we invest in them they will return more on our investment than any bank, stock or mutual fund could."
---
Shine On Sundays w/Asif Illyas, Jont, Tomi Allen and guests

Sunday, May 17, 2-5pm

Just Us! Coffeehouse 5898 Spring Garden Road

suggested donation $10-$20
Shine On Sundays
The Spot Halifax