Nadine LaRoche still laughs when she remembers moving into her condo eight-and-a-half years ago, during a particularly sweltering August. The property—part of an old estate in the city's south end—wasn't what she had planned. Her real estate agent told her "he had this little condo he wanted to show me. I didn't really believe in the idea of a condo because my perception of condos was like glassy sky-rises," she says.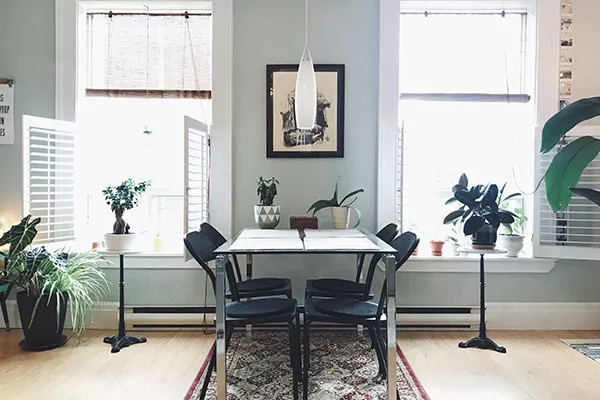 "We like to give old things new life so I found these four chairs…at somebody's yard sale and asked him to sell them to me—they were old school chairs. We spray painted them matte black and then added these cushion disks from IKEA and then had that be our new way to upgrade [our dining area]."
"In the afternoon, the light just fills the entire living space and I'm sure we saw it in the afternoon, so I was blinded by sunlight and couldn't see anything else. I spent a very hot August making renovations. I had great help from my parents; we still laugh to this day because we had to paint during a heat wave when the paint was actually drying in the trough."
Since then, LaRoche has carefully curated a home filled with meaningful vignettes. "There's definitely about 85 percent of elements that don't change, that have just become what they should be, and then there's that 15 percent that fluctuates all the time," she says.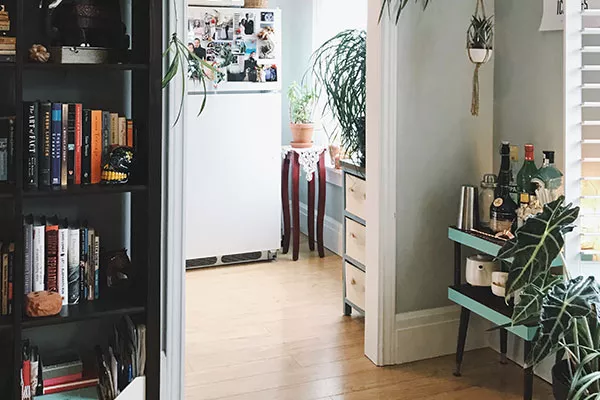 "I think it's called 'grey cashmere' and I've sold that paint enough times that I should be paid by them to paint the place."
The layered look that sees elements like clean-lined tea services nestled next to highball glasses on a sleek, DIY'd home bar is an exercise in that well-planned fluctuation. "You're always fighting against clutter and you have to acknowledge that. If you are making little scenes, just don't let them get tired," says LaRoche. "I recently took everything off the bookcase and put it back up. Through that process, I downsized the number of books we had, took a look at all those little special pieces we'd been adding and asked if they still needed to be there."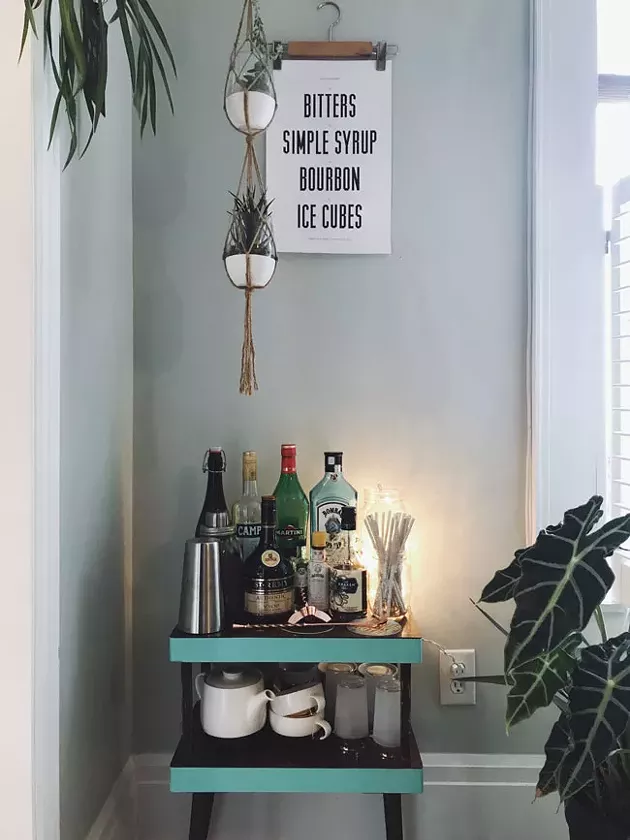 "Our bar was just a little shitty TV table of fake wood, like every side table in the '70s was made of, that I spied in the garbage room at my friend's apartment. I sanded down the sides, toll painted the sides minty green, a friend made that old fashioned print and we built a little bar around it."
When it came to furniture, she lists off items salvaged from garbage rooms, estate sales and friends-of-friends. (Patience was the name of the game, with LaRoche adding to and updating her collection of furniture over the long haul.) "I'm not a big splurger, so we'll find ways to find something beautiful without spending a lot of money," she says. "The linens came from HomeSense and the sconces came from Urban Outfitters online."
"We wanted something more minimalist in the bedroom that would have less of a footprint, a way to save space, so we put sconce lighting on the wall so the bedside table can be smaller but still pile your crap—adorably pile your crap."
Asked to define the aesthetic of the condo, which she's shared with her partner Iain Burton for a few years now, she pauses.
"There's a bit of humour in our space. We'll try something and if it looks too ridiculous or I laugh too hard at the space—instead of just giggling—we'll find another home for it, but there's definitely a playfulness in whether or not something works."
"Because the building is 150 years old and was updated at some point to be multiple units, there isn't overhead lighting in all rooms. We rely a lot on lamps, table lighting or pedant lights."