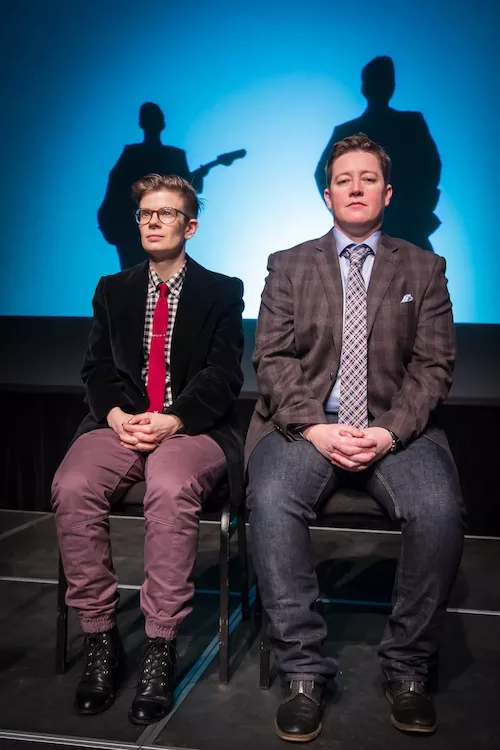 Award-winning transgender writers and musicians Rae Spoon and Ivan E. Coyote are failures. And they are damn proud. Together, they celebrate Gender Failure, a collaborative collection of essays based on an international touring live show at Bus Stop Theatre April 20.
"In the show, I don't trace my entire journey and the gender binary," says Spoon. "In the book, I try to be more linear about it, and take myself back to the first time I met a trans person—all the messed up things I've said, and then I show myself going through different shifts in identity, a lot of times messing up, and trying to fix it."
These autobiographical tales chart Spoon and Coyote's navigation of the gender spectrum, mistaken identities, self-preservation, and acceptance. Longtime friends and collaborators, Spoon and Coyote first toured You Are Here (2007), a collection of stories set to music, and reunited to create Gender Failure, a theatrical show exploring visuals, music, and stories, and now a collaborative book of first-person essays, photographs and song lyrics published by Arsenal Pulp Press.
Born in Calgary and living in Montreal, Spoon is a world-renowned Polaris-prize nominated musician, and star of My Prairie Home, a National Film Board musical documentary directed by Chelsea McMullan, about growing up queer in an evangelical Christian home and surviving, which premiered at Vancouver International Film Festival, and screened in Europe and Sundance International Film Festival. Known for artful lyrical songs, Spoon's foray into creative non-fiction writing started with First Spring Grass Fire, published by Arsenal Pulp in 2012.
Originally from Whitehorse, now a Vancouverite, Coyote has published several award-winning books, including: Close To Spiderman (2000), One Man's Trash (2002), ReLit Award winner Loose End (2005), The Slow Fix (2008), Missed Her (2010), Persistence: All Ways Butch and Femme, co-edited with their partner Zena Sharman, named a Stonewall Honor Book by the American Library Association, and recently released their first young adult title, One In Every Crowd.
"The heart of the book is reclaiming the term gender failures, as we've been made to fail at whatever gender," says Spoon. "It affects everybody, men and women. It's sexism that is the problem—the expectation of gender. "A lot of people bring their parents. It's the kind of show that isn't super heavy. With the book, it's a life stories book. We always speak for ourselves from our particular identities and backgrounds."