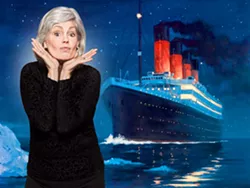 Timothy Richard
Jennifer Overton in In Good Company's My Titanic
The SuperNova Theatre Festival
kicks off its 18th annual showcase of contemporary Canadian touring theatre. Beginning Wednesday, May 18 at the Neptune Studio Theatre with
Emile's Dream
(Newfoundland fiddlers, choreographed dance) and
My Titanic
(chowder disaster, blockbuster movies), and continuing until May 29 with
nggrfg
(queer black kid in straight white Canada),
Dedicated to the Revolutions
(seven scientific revolutions, countless laughs),
So... What About Love?
(twenty-somethings and their love lives), .
..and stockings for the ladies
(a Holocaust story about surviving freedom) and
WeeTube
(YouTube comments, viral videos, lulz).
The festival also presents The SuperNova Improv Challenge, and the winners of Ten-Minute Play Contest---in which the winning high school playwrights have their creations workshopped and performed by professional theatre artists. Which totally sounds like a reality show. See how it all plays out this week. Get it? "Plays"?
Tickets $25/$20/$25, play contest and improv challenge $10. Half-price ticket deals available if you're seeing more than one production in a day, and really, why wouldn't you? (1593 Argyle Street, 429-7070, easternfronttheatre.com)